Graham Reid | | 1 min read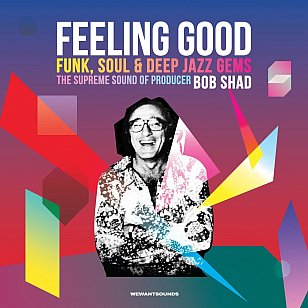 Bob Shad – who died in '85 – was one of those old school producers who would turn his hands and ears to every genre from jazz (Charlie Parker in the Forties, the Clifford Brown/Max Roach Quintet, Sarah Vaughan) to pop (Patti Page, the Platters), blues (Lightnin' Hopkins, Sonny Terry and Brownie McGhee) and rock (Big Brother and the Holding company, the Amboy Dukes).
He worked for big labels (Savoy) but also created some (the EmArcy imprint within Mercury, his own Time and Mainstream), and along the way produced cocktail-hour grooves which are much sought after today for their combination of kitsch and cool.
This 15 track collection – subtitled "The Supreme Sound of Producer Bob Shad" – includes among its bigger names Blue Mitchell (Soul Village, Granite and Concrete), Sarah Vaughan (Magical Connection), Shelly Manne (Mask), Clark Terry (the funny throwaway Rum and Mumbles) and Carmen McRae (Feelin' Good).
The mood here is jazz flute, vibes, congas, midnight organ and some wah-wah funk (Afrique's House of the Rising Funk). But there are also soul divas on hand (Alice Clark with the terrific pre-disco Never Did I Stop Loving You from '72), Maxine Weldon (Right On from '70 with the Jazz Crusaders) and the breathy aching Ellerine Harding (I Ain't Got Much from '70, again a studio stellar band).
And there's pianist/singer Barry Miles' Scatbird which is scat-funk with John Abercrombie on guitar.
So there's a lot in the details here across a non-essential but nonetheless enjoyable and interesting collection which seems perfectly pitched for your next kitschy-but-cool cocktail party.