Graham Reid | | 3 min read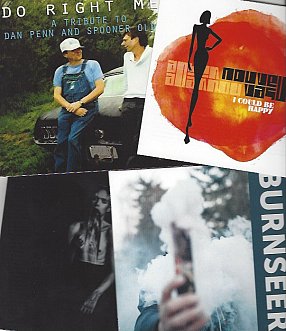 With so many CDs commanding and demanding attention Elsewhere will run this occasional column which scoops up releases by international artists, in much the same way as our SHORT CUTS column picks up New Zealand artists.
Comments will be brief.
Douglas Dare: Aforger (Erased Tapes/Southbound)
At the intersection of electronica artist and melodramatic singer-songwriter, Britain's Dare (think an Anohni of the early Eighties) channels his troubles and concerns – betrayal by his boyfriend, approval from his father/Father, the world of new technology -- into 10 songs which quiver with self-centred questioning and doubt.
What gets the listener through these often fraught and indulgent emotions are the fragile beauty of the simple soundbed arrangements, his yearning style and ability to pop in a chorus to keep this from falling into open-heart therapy.
Lotta first person singular and "you", some bitter sadness about recent events and some interesting play within ideas of gender.
Not for everyone but over the 45 minutes quite an engaging and sonically understated second album from someone worth hearing and listening out for. It'll be interesting to see where Dare goes once he's put these troubles behind him, it's not a vein he can keep mining.
Another interesting release from Erased Tapes.
Venus, by Douglas Dare
Various Artists: Do Right Men (Zip City)
Subtitled "A Tribute to Dan Penn and Spooner Oldham", this 17 song collection showcases the songs of this great songwriting duo such as I'm Your Puppet (here by Buddy Causey), Cry Like a Baby (Christine Ohlman and Bonnie Bramlett), Dark End of the Street (former Amazing Rhythm Aces' Russell Smith with Oldham himself on Wurlitzer), Do Right Woman Do Right Man (Sandy Jackson), I Met Her in Church (Marc Phillips) and so on.
These songs – and others like Sweet Inspiration, Out of Left Field and Hello Memphis – are Southern country-soul classics and the artists, most of them unfamiliar names, and their bands (recorded in Big Star Studios and some with Muscle Shoals bassist David Hood and other excellent session players) are mostly right on the money.
But given the considerable reissue programme of Penn/Oldham songs (many including versions by the artists who originally covered them) undertaken in recent years this can also seem surplus to requirements.
However as an opportunity to hear these lesser-known singers test themselves against great songs and the history, this is a fine calling card for many of them. Is that an enticement though?
I'm Your Puppet, by Buddy Causey
Burnseer: Burnseer (Green Monkey)
And as the name of this trio (with guest guitarist Kurt Bloch in a few places) suggests, it is "now for something completely different". From the prolific Green Monkey out of Seattle they come, a garage-pop band fronted by main writer Frankie G who has as her starting point economic power pop (10 songs in 35 minutes, do the maths).
The promo promise of her being the love child of PJ Harvey and Patti Smith somewhat over-eggs this, although it is fair to observe they sound more NYC 1980 than from the Pacific Northwest.
But many, many bands have passed this way over the decades and – aside from the Sixties psyche-rock instrumental title track – mostly this is pretty ordinary ragged-edge pop-rock, and sometimes – as on the uncommitted and overlong Corner – somewhat lame.
Lullaby, by Burnseer
Nouvelle Vague: I Could Be Happy (Cartell/Border)
Just as orchestral treatments of material by the Beatles and the Stones, swing arrangements of Oasis songs, metal classics and so on ran their course, so it must be with this French pop outfit who again parlay their cool, dreamy, sometimes Latin-flavoured and often deliberately anodyne takes on punk and New Wave pop-rock.
Yes, what they prove is how decent if rather simple tunes were buried behind fuzzy guitars and phlegm. But once that point has been made – as with white-on-white canvasses in art galleries which are no longer as revolutionary or challenging as when Malevich did one almost a century ago – all the rest is just repetition and the familiar.
So here again – with guest vocalists such as Melanie Pain and Camille – are tunes by Richard Hell (Love Comes in Spurts), Brian Eno (No One is Receiving), the Ramones (I Wanna Be Sedated) and the Cure (All Cats Are Grey) alongside originals by NV's Marc Collin and Olivier Libaux.
It's where chic meets street, and now – on this fifth album – of little interest . . . other than as a fashion accessory and conversation starter for a cocktail party where people laugh just a little too loud, and very self-consciously.
No One is Receiving, by Nouvelle Vague ft Nadeah Miranda