Graham Reid | | 3 min read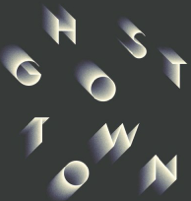 Perhaps because he moved on fast, offered seriously disturbing music and performances with often terrifying visual effects and then left New Zealand, Jed Town never really got the recognition he deserved in the punk and post-punk era.
As a key member of the Features (City Scenes) he might have transitioned from punk rock into more mainstream rock, but the band didn't last much beyond the single and the Features Exposed EP (reissued by Flying Nun last year).
With teeth sharpened to points, Town came back as Fetus Productions, what he called "an audio-visual company . . . a company where people gain their own admission, create their own position and make their own decision . . . this happened to varying degrees"
Fetus Productions/Town was enormously prolific, the handsome German-produced double vinyl box set Intensive Care Unit from the late Eighties noted six records in as many years, seven including the box set.
They were often dark and disturbing (Tokyo Rain) and in performance came with those striking visual images. They were part Dada and Un Chien Andalou, part Blade Runner dystopia and part personal nightmare of a self-inflicted autopsy.
Yet there was strange beauty at the dark heart of Fetus Productions and Town took it with him when he left in the latter part of the Eighties.
He was away for a decade or so, return to resurrect the concept a little but mostly seemed to be going back to the things that inspired hime before punk, the music of his youth.
And what was that?
Well, when Play It Strange held an Auckland Town Hall concert in 2014 to celebrate 50 years since the Beatles played there, Jed Town was on the bill and Elsewhere flicked him one of our questionnaires.
His answers for the first few questions were . . .
The first song which really affected you was . . .
Twist and Shout
Your first (possibly embarrassing) role models in music were . . .
Beatles
The one songwriter you will always listen to, even if they disappointed you previously, is?
Lennon
As songwriters: Lennon-McCartney or Jagger-Richards; kd lang or Katy Perry; Madonna or Michael Jackson; Prince or Pink?
Lennon McCartney
The three songs (yours, or by others) you would love everyone to hear because they are well crafted are . . .
A Day in the Life , I am the Walrus, Hello Goodbye
And now as the guiding member of Ghost Town alongside singer/pianist Mark Beesley (Dean Savage) and drummer Bryan Shaw, Town and Beesley get to look back to their influences, and for Town Lennon comes through clear.
In fact the first three songs on Sky Is Falling – out on vinyl (with a download code) and digital on Friday, album launch on Sunday in Auckland, see below – are so Lennonesque that if you're standing on the far side of the room you'd be forgiven for thinking ….
The dreamy Beesley-penned opener Stolen Kisses rides over a Lennon-like minimal piano part (and Town on slide evoking George Harrison) and hits a neat midpoint between solo John and an alt.country ballad.
Town's Make It To The Other Side which follows is even more Lennon-like, right down to his slightly nasal delivery, the ascending melodic line and sentiment ("I know we're goin' to make it alright").
It might have come from Double Fantasy (which might not be the compliment it sounds).
The Beesley-penned title track – with a more Eighties Dylan lyric – which follows hits similar ground, again with a country twist. It's also very beautiful.
An unusual inclusion in this context is the first song on the second side, it's their cover of David Wiffen's Driving Wheel (covered by Tom Rush on his '70 self-titled album ) but it reinforces the country connection strongly hinted at on the first side . . . and that comes through more strongly on Beesley's Too High.
And so it goes: the romantic dreamer Lennon from Town (Is It You?) and deliberately lo-fi alt.country from Beesley (the elegantly apologetic So Sweet which looks towards a home recording by Nick Cave).
As with Lennon and McCartney, whoever wrote the song gets to sing it.
The only co-write here is the one which gives the band their name: on Ghost Town – which closes the first side of the record – the lead vocal is given to Beesley as he wearily sings of a wagon wheel in the dust, bells that don't ring, and how this is such a lonely town.
"Coming down without you is such a long way down, I'm the last of the living in a ghost town . . ." hints at something deeper and darker.
Sky is Falling may start sounding like a homage to Lennon by Town but by the end distinct voices have come through and the songcraft – while referential – eventually emerges as something distinctive.
You can't push shuffle on a vinyl record – although you can get up and lift the needle, if you can't your too old for rock'n'roll – but that might be a more interesting approach when you download.
The obvious references will blend more easily.
Oh, and don't come here for anything remotely like Fetus Production's scary electronica-cum-art project.
We only mentioned that to give Jed Town his (long over)due.