Graham Reid | | 3 min read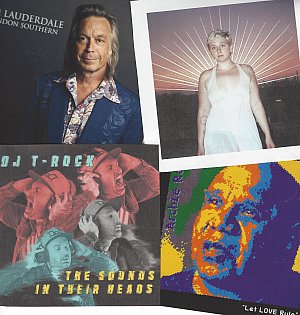 With so many CDs commanding and demanding attention Elsewhere will run this occasional column which scoops up releases by international artists, in much the same way as our SHORT CUTS column picks up New Zealand artists.
Comments will be brief.
DJ T-Rock:The Sounds in Their Heads (Why)
DJ T-Rock appeared at Elsewhere previously with the thoroughly enjoyable Getting Through with Squashy Nice. Here again he brings a slippery mash-up of samples (everything from old soul and funk to contemporary hip-hop and r'n'b), scratching, pop songs (Ride featuring Nick Alan), guests including Kiwis Skyla Love (on the lovely Lucy)and Meghan Glue, humour (sometimes looking back to childhood jokes and rhymes), slo-grooves, diverse beats (How I Do is far too short just 56 seconds but it stops you). Here are 20 tracks in 50 minutes, so songs are almost too brief to make a more full impression. But the consistently cool, soulful mood is extremely seductive and as snippet-like songs (the 1.18 wah-wah funk-rap of Ambassador Vernacular with Nac One) fly by and you're dropped somewhere else this actually makes for a repeat play item just to get what you might have missed.
Certainly been on enjoyable next-go-round at my place. Not groundbreaking, but once again thoroughly enjoyable, a smart trajectory towards the more beat-heavy midpoint and therefore highly recommended.
On My Own (remix) ft Meghan Glue
Archie Roach: Let LOVE Rule (Liberation)
Released in Australia late last year but getting belated issue here to time with his forthcoming Womad appearance, this finds the 61-year old Australian singer-songwriter engaging much more with gospel soul (there is a children's choir and another ensemble in places) and he sounds all the better for it by reconnecting with the music he heard during one of the few peaceful periods in his turbulent childhood as one of The Stolen Generation. He articulates his own frailty and fears alongside an optimistic spirit (It's Not Too Late) and firm faithfulness ("yet I'm here today just like yesterday, and the day before that my dear"). He sings of his love for the land (Get Back to the Land which opens like George Jones-like piano ballad weeper) and the freedom it can offer (the country rock of There's A Little Child and Mighty Clarence River with "get away from the taunts of the white man boss"). He's a sentimentalist often, but if you haven't heard Roach in a while – or perhaps never – this is as good a place as any to engage him.
Love Sweet Love, by Archie Roach
Jim Lauderdale: London Southern (Proper/Southbound)
This great multiple-award winning Nashville songwriter has had his work covered by the Who's Who of contemporary country and has admirers in rock (notably Elvis Costello) for the spare power of his lyrics and melodies. As with Nick Lowe (who learned from Lauderdale's style and whose band is on these sessions), Lauderdale can write songs which seem to have stepped out of the Great American Songbook (the soul-filled I Love You More here) and avoid cloying sentiment. He's more akin to a Southern-soul writer (We've Only Got So Much Time Here, the horn-punched You Came to Get Me, Shut Me Down and What Have You Got to Lose co-written with Dan Penn). This is a very restrained Lauderdale however and very little rises above the mid-tempo soul ballad format and you might yearn for a little more bite in the delivery, even on the more roadhouse sound of the final track This is A Door. It's all very pleasant, and you suspect you might be hearing some of these songs on albums by his many admirers in the next few years.
Don't Let Yourself Get in the Way, by Jim Lauderdale
Allison Crutchfield: Tourist in This Town (Merge)
Given that very few of us would have heard American Crutchfield's earlier bands (PS Eliot, Swearin') or her solo EP we take this as we find it as it slews between pop-rock (I Don't Ever Wanna Leave California, Dean's Room, the Spector-lite beat of Expatriate), acoustic pop (Charlie) and plenty of synth beds laying out the ground (Sightseeing, Secret Lives and Deaths). Clearly born out of a break-up, many of the songs here trawl the emotions but she has a neatly acerbic view and doesn't spare herself, so it's not just shame and blame. What it might lack is anger, which is mostly sublimated here. Crutchfield has an unusual voice better suited to the up-tempo songs (she wavers girlishly on the ballads) and the self-analysis, while astute, does hit peak indulgence in places. An interesting start to a solo career which sounds like it doesn't quite know which direction it might go in.
Chopsticks on Pots and Pans, by Allison Crutchfield