Graham Reid | | 1 min read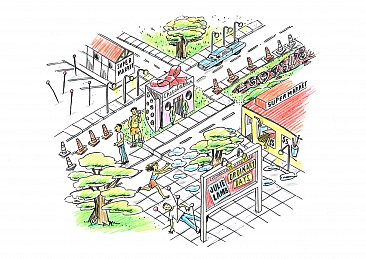 First a big tip o' the hat to Wellingtonian Lamb's packaging of this album: it comes in CD-sized cardboard box which contain the disc in a gatefold cover (with download code), lyrics on 10 playing card-sized illustrated cards in a small envelope, colourful bulldog clips (again in the themed artwork) and a die in plastic pack, instructions on how to make your own traffic cone (funny given most city dwellers see quite enough already) and a fold-out sheet with studio session photos on one side and the artwork again (by Deb Mansfield) on the other.
Then there are the songs.
Lamb carries an excellent band – the solo space offered guitarist Matt Fitzpatrick is never squandered as he adds necessary grit or fire -- which can get deep, broody and disconcerting on the moody ballad Why Do I Forget; crisply funkish and jazzy on Bleeding Numbers, a touch of wah-wah reggae on Mind Flit and just enough Steely Dan-like in other places.
Lamb is a lyricist with something to say about corporates, the ideas that run through her head by night and day, a delight in Ordinary Days (which elevate the relationship) and more. She sometimes tries to pack too much information into her lines ("procrastination hit me like a Stonehenge rock", "you seem to think I'm a neophyte, treating me like I don't have a right") but, as with Ross Mullins whom we've mentioned previously, she tells her own story her way. Despite the lyrically dense Standing Proudly (the neophyte song) she conveys her quiet anger and self assertion, assisted by the punchy horns and Fitzpatrick's terse solo.
The oddest piece is Hashtag On A Good Day which a kind of a cappella, tongue-in-cheek paean to Wellington where you wear summer clothes and winter socks, get to go to cafes a lot and so on. It is sung as rounds and is cleverly arranged but the humour palls after a couple of plays. It probably goes down a treat in a Wellington cafe.
The better material is in the more direct and personal songs (Simple, Jean Pierre which opens with "I've been running late for 10 years now" then moves into early Suzanne Vega territory).
Julie Lamb has thoughtfully presented an interesting album and sounds like she'd be worth catching in a cafe concert . . . but if she saved Hashtag on a Good Day for the encore I'd be heading towards the cash register and on the way out.
For more on Julie Lamb check her website here.