Graham Reid | | 3 min read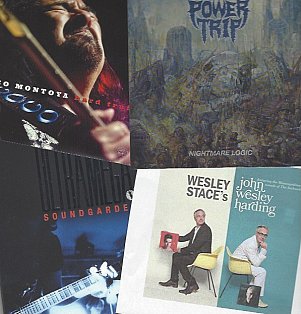 With so many CDs commanding and demanding attention Elsewhere will run this occasional column which scoops up releases by international artists, in much the same way as our SHORT CUTS column picks up New Zealand artists.
Comments will be brief.
Coco Montoya: Hard Truth (Alligator/Southbound)
Longtime rock and blues fans know that John Mayall was a very good picker when it came to band members: through his Blues Breakers passed Eric Clapton, Jack Bruce, Mick Fleetwood, Peter Green, John McVie, Mick Taylor, Larry Taylor . . .
But one name is often missing from that list of illustrious players, that of guitarist Coco Montoya. Perhaps that's because he joined Mayall in the Eighties when all those fans of the group in the Sixties had moved on.
Pity because Montoya – who was with the group for a decade – is one of the great, stinging blues players who learned his art from the legendary Albert Collins in whose band he started his career (as a drummer).
Since leaving the Blues Breakers he has recorded a string of fine albums and although sometimes just a serviceable singer, it is his fist-tight, searing playing (the incendiary Lost in the Bottle here) which you come to him for. And his more restrained blues (Devil Don't Sleep).
A few here don't work (the John Hiatt/Marshall Chapman Old Habits is lyrically clumsy, the jerky funk of Moon is Full) but now back on the Alligator label – the natural home for his tough, inner-city blues-rock – Montoya is still delivering killer strokes.
Hard as Hell, by Coco Montoya
Power Trip: Nightmare Logic (Southbound)
Although albums by Anthrax, Sepultura and others on the bludgeoning end of the metal spectrum used to command turntable time at Elsewhere, the punishing thrash /speed metal hasn't been given much time lately. So out of curiosity and genuine interest we whack in this second album by this Texas five-piece and cautiously turn it all the way up to 6 . . . just to be on the safe side.
Of course this doom-laden, hell-bound race to the finish line (the impending apocalypse by way of demons, corrupt politicians, the end of empire) demands greater volume for the full chest pain. With the kind of machine-tooled discipline of the masters in the genre coupled with powerful sonic effects (the title track) and that relentless chug of Panzers at full throttle this is a mighty impressive outing.
Had me back on Anthrax for a while. If you only buy one metal thrash album this month . . .
(Tragically this is dedicated to 12 named friends and "all our allies who fell too soon".)
Waiting Around to Die, by Power Trip
Soundgarden: Ultramega OK (Sub Pop)
A word of caution for those who came to Soundgarden around Badmotorfinger or Superunknown in the early Nineties when they were a grunge-metal hit making machine, this is their debut album from back when they were a much more ragged affair on the SST label. They were still finding their feet between metal, hard rock and punk fury. Here remixed by Jack Endino are the uneven '88 album (with its indulgences intact: the little sonic noises of 665, 667 and their cover of Lennon's one minute of silence which is exactly that) and the Ultramega EP of early versions of songs in their set list at the time. Singer Chris Cornell pitches way too high for the gloomy Beyond the Wheel to the point that it loses its impact, but you do admire the nascent power of the band (which then had bassist Hiro Yamamoto on the ranks). One for completists rather than the casual Soundgarden follower. Still sounds a bit thin too.
Circle of Power, by Soundgarden
Wesley Stace: Wesley's Stace's John Wesley Harding (YepRoc/Southbound)
And after all that noise now it's time to turn down the bellicose bombast for this quieter gem. It opens with I Don't Wanna Rock'n'Roll ("no more . . . take me off the list, I've seen the show, I've got the gist") by this British singer-songwriter, acclaimed author and university lecturer Stace who previously performed as John Wesley Harding. Hence the title of this album recorded live in the studio with the Jayhawks.
A prolific writer (JWHarding has almost 20 albums to its name) and performer who hosts a kind of live variety show (guests like Graham Parker, David Gates, Buffalo Tom, Rosanne Cash, Robbie Fulks), he has a vast knowledge of music and, according to the notes with this album found a bunch of unused songs. With the Jayhawks he welded them into literate power-pop (Better Tell No One Your Dreams, the Big Star sound of For Me and You) with inflections of downbeat folk (How to Fall, the autobiographical Audience of One, the lovely ballad What You Want Belongs To You) and chiming pop (their cover the early Seventies, European pastoral pop of Greenfield and Cook's Don't Turn Me Loose).
It is witty, self-aware (in real life he is both writer and critic), autobiographical, referential (lyrically and musically) and thoroughly enjoyable. You suspect however it is more an album for those willing to engage with the character of Stace because this is very much Him.
Hastings Pier, by Wesley Stace