Graham Reid | | <1 min read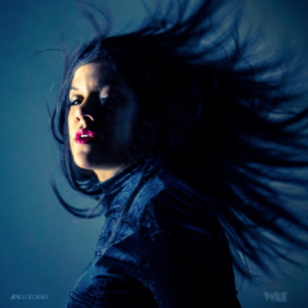 Pitched somewhere between ethereal ambience, appealingly drone-like minimalist folk songwriting and astral electronica, this album by Iowa's Gloeckner – recorded in her bedroom – also includes some eerily evocative sonic backdrops (the disconcerting Firefly) and nods towards economic prog-rock (Prayers) courtesy of her loops and programmes, guests like guitarist John Ashton from Psychedelic Furs, cello, E-Bow and more.
Quite a textured and ambitious third album from someone who has recorded with Joseph Arthur and the late, great Hector Zazou.
There's also just enough of Angelo Badalamenti's weightless Twin Peaks soundtrack here (The Last Thought with a strange Asian quality, the lovely Row with the Flow) to conjure up a sense of unease behind the seduction of her mid-distance vocals.
She's not averse to a billowing ballad (Blowing Through with fluttering flute and cello) or hitting a sleepwalking state (Counting Sheep).
In a way the territory she occupies is quite crowded these days, but Gloeckner offers something a little more diverse than other contestants.
And when she drops down into a smoky monotone on the spaciously moody Colours she is utterly hypnotic.
Very much worth checking out. One which improves with repeat plays.