Graham Reid | | 1 min read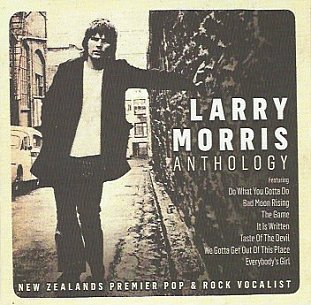 Larry Morris would be the first to admit that his was a wild ride for a decade after Larry's Rebels gatecrashed the New Zealand music world of the Sixties with a harder edge, a proper rock'n'roll attitude to pop, a string of memorable singles (many of them covers but with their own stamp) and excellent live shows.
Morris was only in his mid teens when all that started but a decade on he'd had a solid solo career, spent time in prison for importing LSD and struggled to make a comeback with a more mainstream approach . . . and then delivered the exciting Reputation Doesn't Matter album which found him back on top form.
It was a crazy ride and Morris' story also involves sex alongside the drugs and rock'n'roll, as well at time as an illegal immigrant in the US and . . . so much more.
Larry's Rebels have had their reissues courtesy of enthusiast Grant Gillanders (see here and here) and now Morris gets his own solo career overview across 24 songs which showcase his soulful style (Do What You Gotta Do), the orchestrated balladeer (Fords Bridge), creditable covers (Bad Moon Rising released before Creedence's original, We Gotta Get Out of this Place, Slice of Heaven) and even a look back at his Rebel years in the re-recording of their Everybody's Girl.
There are some excellent songs (and arrangements) here which are thoroughly deserving being brought back into the light, among them Natural Man, the autobiographical Rock'n'Roll Struggle with punchy horns, the country-rock of Bomber on the Loose (based on a true story told in the liner notes) and Speak For Yourself (aimed at then-PM Robert Muldoon), the dark Taste of the Devil (with his short-lived band Shotgun), the moving Rain . . .
Larry Morris possessed one of the most authentic rock'n'soul voices and even if his life was sometimes blighted by mistakes of his own making and the material he was given didn't always do him justice, this is an excellent career synopsis of a major talent.