Graham Reid | | 3 min read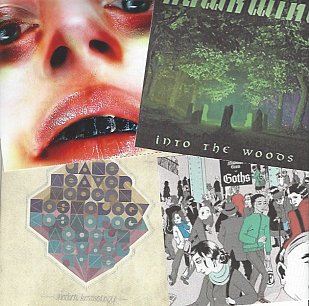 With so many CDs commanding and demanding attention Elsewhere will run this occasional column which scoops up releases by international artists, in much the same way as our SHORT CUTS column picks up New Zealand artists.
Comments will be brief.
.
Arca: Arca (XL/Rhythmethod)
People like Bjork, Anohni and this Venezuelan-born and London-based producer (Alejandro Ghersi) might exist within the broad church that is "rock culture" but they don't make rock music.
They make what academics might call art music, that is something akin to contemporary classical music albeit it configured using the technology of electronica and production ideas appropriated from trip-hop, rap and post-ambient soundscapes.
That can make them an awkward proposition for casual listeners but utterly engrossing for those prepared to make the time. And this album certainly deserves space to impose itself.
Which it does, it is not easy listening.
At core this is a production tour-de-force of strings, operatic voices, his whispery lyrics in often melodramatic falsetto Spanish, varispeed techniques, punishing off-kilter beats, staccato glitches, acoustic piano, samples and much more.
The gender-challenging Arca was called on by Bjork for Vulnicura and Kanye for Yeesus, and has worked with FKA Twigs, but little of that prepares you for the avant-garde electronica and soundtrack of discomfort which is here.
For those who actually enjoy Bjork and Scott Walker their most challenging (and can accept pieces entitled Whip – which fair whips you round the earlobes – and Castration).
Extraordinary . . . and very different, in a good way.
Sin Rumbo, by Arca
Jane Weaver: Modern Kosmology (Fire/Southbound)
The title of this sixth album by Britain's Weaver – who got her start in the Britpop era – might suggest The Now. But in her channeling of Sixties and Seventies motorik Krautrock (with Can's Malcolm Mooney on hand) alongside strident Sixties pop structures and woozy folk, this comes off as an enjoyable rummage through the past to reconfigure those elements into something very psych-electro.
If the modern world is standing on the shoulders of giants, she is up there with her vintage equipment but gazing skyward and "changing my world" as she sings on the whooshing title track.
The ebb and flow of the sound behind her – always with forward momentum – pulls you through these 10 songs, so even when she adopts her folktronica persona as on Slow Motion is comes across the top of cheap but widescreen Sixties organ and pushing synth beats.
Weaver isn't averse to a chugging pop song either – the minimalist Feelies-like guitars behind the dreamscape vocals of Loops in the Modern Society, the taut electric guitar on the folk-prog Valley – but it is on the multi-layered electro-rock songs like The Architect and the soaring acid-trip Revenspoint where she is at her most retro-futuristic.
Across this album which seems to stand outside of time, Weaver has pulled some fascinating and seemingly disparate threads together to create something her own.
The Architect, by Jane Weaver
Mountain Goats: Goths (Merge)
Seems to have been a while since we've had a missive from John Darnielle with his often penetrating lyrics and sense of urgency. And here – despite the title this is more sourced in Goth culture than actually a Goth album – he turns his microscope on the era of Sisters of Mercy, Motorhead jackets, hardcore ("but not that hardcore"), darkened clubs and – on the lovely and somewhat sad Andrew Eldritch is Moving Back to Leeds – about how the Goth dream at some point ran into adulthood, the need to get a job and something beyond eye shadow when life in London didn't work out.
It is all in the detail here – the clothes, the clubs, the artists given namechecks – and even songs with titles like Stench of the Unburied, Wear Black ("when there's light outside, when there's no light") and Abandoned Flesh don't fall for the musical tropes they evoke.
These are perspicacious songs about some specifically British aspects of the culture by Californian Darnielle (there's a gentle and witty song here We Do It Different on The West Coast) and – without any guitars other than bass – this manages to be a love letter to an earlier era but also a farewell to those – "young and ravishing" – who didn't make it out the other side like Gene Loves Jezebel ("to be fair . . . Billy Corgan brought them on stage, it was in 2011, it's on their Wikipedia page").
But also those who did like "Robert Smith [who] is secure at his villa in France . . . Siouxsie has enough hits to keep the bills paid" on Abandoned Flesh with its seductive soulful horns.
A smart, satiric and loving tribute.
Abandoned Flesh, by Mountain Goats
Hawkwind: Into the Woods (Cherry Red/Southbound)
In which our intrepid and long-running space rockers teasingly suggest by the title of this umpteenth album that they might be going a wee bit pastoral. Other titles consolidate the preconception (Cottage in the Woods, The Woodpecker, Wood Nymph etc) . . . but strap in for another overdrive trip.
Opening with the riffing title track they charge through some blow your mind astral-rock, head-down psychedelic country-rock boogie (Space Ship Blues at the midpoint, the tongue-in-cheek Vegan Lunch) and close with the nine and half minutes of interstellar space-prog of Magic Mushrooms.
To be fair to the allusions of the album title, they offer balance however on this broadly themed concept album (be kind, be nice, look after the environment) does have its more sedate moments (Cottage in the Woods, the bird sounds interpolated).
But really its essence is in the pieces with titles like Ascent (like the spoken word passage on The Wind, it is very Spinal Tap), Magic Scene and Darkland.
So it is business as unusual from a band which has been around for almost 50 years, and still living it larger than life.
Have You Seen Them, by Hawkwind