Graham Reid | | <1 min read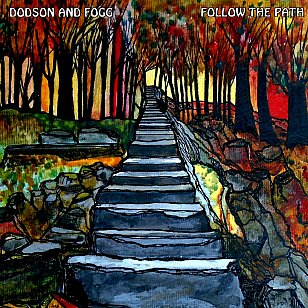 In which Elsewhere once again hopes to draw your attention to the very prolific Dodson and Fogg – aka Chris Wade – from Leeds (music, books, artwork, articles, film, see here!) whose releases come wrapped in interesting cover art by his wife Linzi Napier. They are quite the cottage industry . . . and very industrious.
On this collection Wade plays everything himself and as in the recent past you are looking for reference points in dreamy Anglofolk, the more contained and melodic end of the Incredible String Band, acoustic Marc Bolan at his most focused and yet trippy . . . and some sharp slightlydelic pop-rock on Calling Out To You.
A Fool For the Day is the kind of song that would be a staple on evening alt.radio in a better world.
Wade has perfected the art of the melodic drone coupled with acoustic guitar and knows how to craft a simple but memorable chorus. But he can also bring a slight touch of vinegar to the flavours.
And he brackets this one with By the Water: the opening version a slightly Middle Eastern-influenced acoustic version, the closer a nine minute a Seventies rock-out on fist-tight, chugging electric guitar.
We will continue to bring Dodson and Fogg to your attention – as we have done before – because Wade has yet to disappoint.
Contact Dodson and Fogg through the extensive website here.