Graham Reid | | 2 min read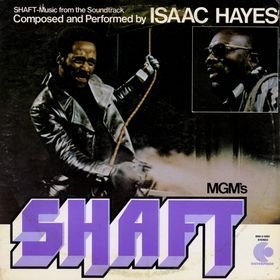 It's not widely known, but Isaac Hayes was the first black artist to win the Best Song category at the Oscars, and he did with the memorable theme to the film Shaft which also won him a Grammy and pushed the double album soundtrack to become the fastest selling album on the Stax label to that time.
If there's any irony it's that on The Theme, Hayes barely sung at all just did his sort of spoken word rap. And most of the soundtrack is all instrumental, but they cover a wide swathe of styles from moody jazzy sounds to almost MOR music and to something kin to Bacharach in the arrangements for strings and horns.
Hayes had played in bands in Tennessee and when he arrived back in hi birthplace Memphis in '64 he joined Stax as a session musician. He, with David Porter, wrote hits for Sam and Dave (the classic Soul Man), Carla Thomas and others and three years later released his Presenting Isaac Hayes debut album, the title of which hints at his ambition.
He became a soul star whose style was mostly languid and often extended versions of other people's songs (consider his 12 minute version of Bacharach-David's Walk on By and his long spoken word intro to By the Time I Get to Phoenix on the album '69 album Hot Buttered Soul) alongside his originals. But it was the soundtrack to the black cop movie Shaft in '71 – with its hint of "motherfucker" in the theme song – which pushed him into the superstar league.
Not that he stayed there for long because there was an acrimonious break-up with Stax in '75 and aside from minor hits he never regained the profile he once had. Until he voiced the part of Chef in South Park until his death in 2015 at age 65.
The soundtrack to Shaft was his most commercially successful album but also something of an artistic triumph too because he evoked the street funk world of the main character John Shaft (whom he hoped to play but Richard Roundtree had already been cast) as well bringing some gravitas and sadness to the song Soulsville about junkies, the welfare line, crime and the hard life in the ghetto.
Perhaps because it is such an evocative soundtrack, it has been widely sampled (Tupac, Lil' Kim,Mobb Deep and many others) and its deft line between hard funk and pop, jazz and soul has endeared to many down the decades.
And it features the Bar-Kays band who really stretch out on the 20 minute Do Your Thing (anther of the few tracks among the 15 where hayes sings) on the final side before the two minute instrumental The End Theme which restates the famous opener and so takes you right back to the start again.
Shaft has been reissued through Universal's Back to Black vinyl programme (with a download code) and because of its musical breadth and sheer listenability it deserves your serious attention.
The Black Moses who became Chef really was cooking using a slow burn on this one.