Graham Reid | | <1 min read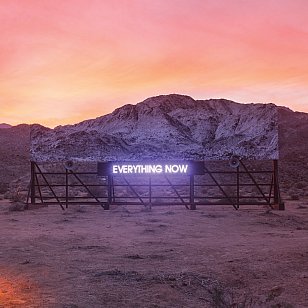 Always a band with ambition, this Canadian outfit have previously pushed the parameters and for their previous outing Reflektor went the whole double-CD.
As we said at the time, like most double discs it was overlong but you did have to admire their willingness to experiment and, in that instance, throw themselves back into the Eighties.
In that regard this more economic and ultimately enjoyable single disc (a tight 48 minutes with melodies which loop back) is something of a retreat into more crowd-pleasing musical tropes, notably a strong disco and dance elements which they have previously touched on but never immersed themselves in quite as fully.
They also craft soaring ballads with elegant ascending melodies (Everything Now) and spooky Eighties Anglo-pop (Peter Pan), and a touch of early JA reggae (on the less successful Chemistry).
Beyond the surface seductions and hints of frivolity (perhaps the input of Daft Punk's Thomas Bangalter who is on hand) there is some serious stuff being dealt with here (existential disillusion in the chock-full technological age, kids who self-harm, loneliness, cynicism).
Arcade Fire have always looked beyond escapist pop and into the demands of an adult world – check their excellent 2010 album The Suburbs – and here, again (on Signs of Life among others), look back and into that uncertain world between youth and maturity.
That they do with such catchy melodies, disco horns and beats, makes for an album -- which sags a littler at the centre -- that appeals on many different levels simultaneously.