Graham Reid | | 1 min read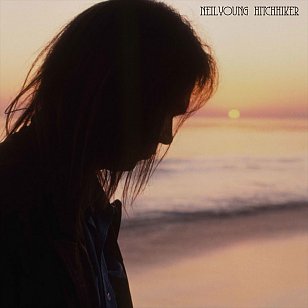 In a recent issue of Uncut, a diligent writer Tyler Wilcox looked at the "Lost Albums of Neil Young" and pieced together the track listings for nine albums Young recorded but never released, although most of the songs in one form or other turned up on other albums.
One of the unreleased albums was entitled Hitchhiker, a 10-song solo collection recorded in a single session in '76 which included, among others, the title track (some of which ended up in a broody and different version on Trans as the terrific Like an Inca), Powderfinger (again, very different when it appeared on Rust Never Sleeps) and Human Highway (on Comes a Time, here a more muted and slower version).
The Hitchhiker album has now been released (confirming again that Young's past is considerable more interesting than most of his present) and there is a charming informality to it as he speaks with producer David Briggs.
Both Pocahontas and the excellent Powderfinger look back into America's dark and violent past – the former about the slaughter and disenfranchisement of Native Americans, the latter about riverboat pirates – but, as with Cortez The Killer, Young romanticises aspects of innocence in the past, although not without wry humour when he notes "Marlon Brando, Pocahontas and me".
The poetic leap in Powderfinger from prematurely ageing young observer to a voice from beyond the grave remains one of his most compelling lyrics.
Young was in an especially reflective mood across these elementally simple but engrossing songs: Captain Kennedy also looks back to an earlier time (his father as a schooner captain who lost his boat to the Germans during the war) but also drops into the present "thinking of my family and wondering what it was for"; the unreleased Hawaii is a piece which takes some decoding; and there is bleakness on the title track which is a nakedly revealing autobiographical account of drugs taken, disturbing recollections of that period of fame and pressure and paranoia then spiralling out into a vision of Incas, again as with Cortez and Powderfinger a poetic leap into a new realm.
The other unreleased song Give Me Strength boasts one of Young's prettiest melodies and emotionally broken sentiments.
The album ends with a piano and harmonica treatment of The Old Country Waltz (a song which turned up on American Stars and Bars with full country treatment of fiddle and pedal steel).
For those who prefer solo Neil Young over his rock incarnation, Hitchhiker is an essential album from one of his most productive and lyrically interesting periods.
It does seem ironic that while Neil Young would want us to accept he is a current artist who still has something to say, many of the most impressive albums he has released in the past couple of decades have come from his vaults.
This is among the very best in his vast catalogue so it's pleasure to have it at last.
There is a considerable amount about Neil Young -- including an attempted interview -- at Elsewhere starting here.