Graham Reid | | 1 min read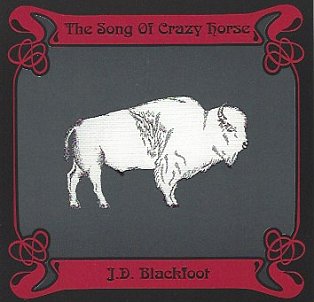 One of the more rare, unusual and acclaimed albums from the early Seventies, The Song of Crazy Horse by American singer-songwriter Blackfoot has been in and out of availability, and the vinyl commands a pretty decent price on e-Bay.
Blackfoot's full story is at his website here.
But the shorthand is that after an impressive if not especially profitable early career in the US as a singer-songwriter he arrived in New Zealand in the early Seventies with his recently married Kiwi wife.
He already had the workings of this album's 18-minute title track which he recorded at Stebbing Studio in Auckland with Tony Baker co-producing, arranging and conducting.
There is a stellar band of New Zealand jazz players on hand too: drummer Frank Gibson Jnr, bassist Billy Kristian, pianist Mike Walker, guitarist Bob Jackson, saxophonist Jimmy Sloggett and Baker playing sax and organ.
At this time jazz fusion was starting to get a foothold so these musicians knew the territory of rock – Gibson and Jackson were in Dr Tree – and the epic and frequently moving title track bridges acoustic folk, rock (driven by Gibson's exceptional drumming) and some kind of broad conceptual story of the Native American leader elevated by strings, phasing and, towards the end, a chant passage.
Blackfoot wasn't Native American – he admits he was a convert to their tragic story when he discovered books in his 20s – but the sheer scope and ambition of this song remains quite a remarkable achievement; sort of James Taylor-meets-prog with the kind of dramatic musical settings Paul Buckmaster brought to some Elton John albums of around this period.
Elsewhere there is more straight-ahead country rock (Walker going honky tonk on the invigorating I've Been Waitin', Miss Sally), a throwaway about radio jocks (Hey Johnny DJ) and his cult favourite and country parody Flushed You From the Toilets of My Heart.
Given the predilection for Sensitive Singer-Songwriters at the time (all those Taylors) it isn't surprising this album was so well received at the time – The Song of Crazy Horse won album of the year in New Zealand in '74 – but Blackfoot (not his birth name) brought something more mythic to the table.
And with the excellent backing by locals (aside from overwrought pastoral psychedelic folk of Almost Another Day recorded back in the States) this album is both of its time but often enough reaches beyond it.
Good to have it on CD and readily available. Budget price too.