Graham Reid | | 1 min read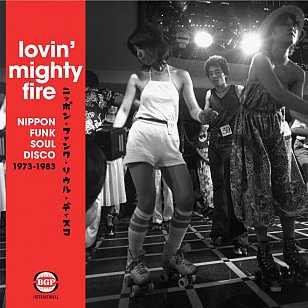 And this is why we still need CDs.
Subtitled Nippon Funk Soul Disco 1973-1983, this enjoyable 14-song collection -- from the same source as these and this -- comes with a thorough liner note essay by Howard Williams who offers a fascinating cultural history of post-war Japan, the emerging technology and mostly the impact of black music there.
A jazz writer Yuchi Shouichi quotes argues that 19th century Japanese (after their encounters with the increasingly dominant West) and post-slavery black Americans had much in common as they searched for identity, and post-war Japanese especially felt the oppression of the Occupation.
Might be a long bow, but what is undeniable is the way in which so many young Japanese adopted various black idioms (thiose of the subtitle) and on the evidence here became highly proficient at them, musically.
Vocally it's another story -- you'd be hard pushed to identify a truly deep soulful voice here, some good ones though -- but of course the curiosity and charm lies in hearing the Japanese language riding atop funky grooves and snapping disco.
For these ears the only vaguely familiar name is Pink Lady but you don't come here for the familiar . . . . aside from enjoying the obvious musical references to black idioms, sometimes given a strange outer-space twist (Haruomi Hosono's Barato Yajuu/Rose and Beast) or entirely distinctive spin. As on Pink Lady's Jiken Ga Okitara Bell Ga Naru/When a Bell Rings Something Happens which sounds closer to Europop than anything black American.
But if not everything works you'd have to admit something like Yuko Asano's Summer Champion (a revision of Sergio Mendes' Summer Dream) would drag you to a danceflor under a mirrorball.
And lord knows what the ousted track is about, but it's kinda fun.