Graham Reid | | 2 min read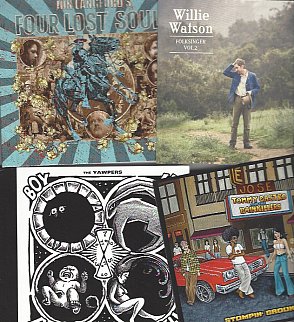 With so many CDs commanding and demanding attention Elsewhere will run this occasional column which scoops up releases by international artists, in much the same way as our SHORT CUTS column picks up New Zealand artists and Yasmin does with EPs.
Comments will be brief.
.
Jon Langford's Four Lost Souls: John Langford's Four Lost Souls (Bloodshot/Southbound)
No matter how well intentioned, calling someone "a songwriter's songwriter" has often been the kiss of death for great artists who go ignored, but to see it on the sleeve of this new one from former UK-punk era Mekons Jon Langford and a man long immersed in Americana and lore (Waco Brothers) should not be a warning sign.
Produced by the great Norman Putnam in Alabama, these 13 songs feature singer/writer and twangy guitarist Langford, the yearning vocals of Bethany Thomas, Tawny Newsome and guitarist John Szymanski with help from stellar players like bassist David Hood, Pete Finney on steel guitar and others.
These are literate, beautifully played and often almost vaguely familiar originals which tap into country-rock, alt.country, rousing singalongs (Halfway Home with honky-tonk piano), backporch acoustic ballads, country soul and so much more. The women singers can tear your heart out, the songs initially seem modest but are crafted carefully and the whole hangs together with the kind of ease that makes you think this stuff just flows from Langford without much effort.
He is the master of making the difficult art of refining lyrics and tunes seem simple and natural.
Mystery, by Jon Langford's Four Lost Souls
Willie Watson: Folksinger Vol 2 (Acony/Southbound)
Produced by David Rawlings, this collection of traditional songs and old blues (Furry Lewis' When My Baby Left Me, a couple by Leadbelly) opens with the old gospel wailer Samson and Delilah with the harmony group Fairfield Four (who also assist on Leadbelly's Take This Hammer and On the Road Again, not the Willie Nelson song).
Also here on this acoustic collection is a version of Gallows Pole (aka Gallis Pole), the foot-tapping redemption song Dry Bones, the probably ancient Cuckoo Song credited to Clarence Ashley which channels matters of faithfulness and infidelity and Blind Alfred Reed's beautifully empathetic Always Lift Him Up and Never Knock Him Down.
Watson takes on the tougher material like John Henry and Take This Hammer with power but also pulls right back for the more sensitive material.
Walking Boss, by Willie Watson
Tommy Castro and the Painkillers: Stompin' Ground (Alligator)
The Alligator label is the clue to the genre of course, this is contemporary electric blues by singer/guitarist Castro (and horns) but with its ears closer to Memphis soul than the barbed-wire Chicago style . . . with guests like David Hidalgo, Charlie Musselwhite and Mike Zito.
The blues songs don't stray too far from the familiar templates (the guitar of course elevates things) but Castro possesses an interesting and persuasive soulful voice so the slow ballads actually shine in this company, and they do an interesting soul-touched treatment of Further On Down the Road. And resurrect Buddy Miles' showcase in Hendrix days Them Changes.
My Old Neighborhood, by Tommy Castro and the Painkillers
The Yawpers: Boy in a Well (Bloodshot/Southbound)
Produced by the Replacements' Tommy Stinson and the band, this opens with a sometimes furious meltdown of rockabilly, garageband rock, post-punk country and more. At which point you would be forgiving for wanting a lyric sheet because it apparently tells the story (in metaphorical terms) of a French mother abandoning her baby in well during World War One.
But for the most part that is only discernible – to these ears anyway – when the moods subsequently drop right down as on the bleak folk of Room With a View about the child growing up down in the depths. There is the drama and darkness of Cave-like/Cramps-influenced rock with Biblical resonances here (the coiled menace of Mon Nom, the Sun Studio echo and haunting vocals on Face to Face to Face).
There's something very serious going on here but it only gives itself up on repeat plays when the various elements of the story, the theme and the emotional depths emerge from the discrete songs.
A tough call but a very rewarding one. Here is a link which is helpful.
Linen for the Orphan, by the Yawpers