Graham Reid | | 1 min read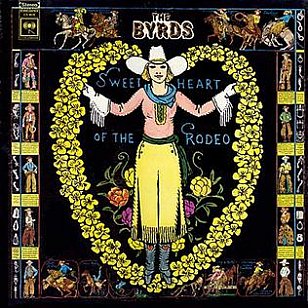 Although not the first country rock album – Gee, even Britain's r'n'b rockers the Downliners Sect had done a country album three years previous – this '68 album by former folk-rockers the Byrds (now with a much changed line-up from their classic early period) certainly made the case for the emerging genre.
Although it's fair to observe that this was more country than country-rock with its pedal steel, fiddle, banjo, mandolin and upright bass.
And songs like the Louvin Brothers' The Christian Life, the traditional; I am a Pilgrim, William Bell's You Don't Miss Your Water, Cindy Walker's early Fifties country ballad Blue Canadian Rockies and even Dylan's hokey-folksy You Ain't Goin' Nowhere.
But what stood out then and now were the songs by new member Gram Parsons who offered them the classic close-harmony One Hundred Years From Now (the closest this line-up came to those those early hits) and the excellent Hickory Wind, both of which slip in here seamlessly.
The album closes with their terrific version of Dylan's Nothing Was Delivered.
This 2003 reissue – happily re-presented after a long absence – comes as a chock-full double CD with seven addition tracks of different songs or different takes filling out the first disc after the remastered original album (many of them with Parsons' vocals which were replaced by Roger McGuinn on Sweetheart, and his Chuck Berry knockoff on Lazy Days).
On the second disc are six songs by the International Submarine Band (Parsons' previous folk-rock band who had been signed to Lee Hazlewood's LHI label for the Safe At Home album which wasn't released until after Sweetheart) and 14 demos, outtakes and rehearsals for Sweetheart.
Ironically for an album so acclaimed afterwards it barely sold at the time, not because it was too far ahead of its time (country-rock, Americana and alt.country would all follow) but that in '68 there was psychedelic rock and the world was going to hell everywhere: assassinations, student riots and strikes in France, mass protest in the US against the Vietnam was and so much more.
Sweetheart of the Rodeo just seemed an aberration from a band which had ceased to be relevant after David Crosby had quit and some new guy had come in with a bunch of unfashionable country music.
Needless to say, because it reached back, and didn't try to bottle the angry zeitgeist it has aged far better than other albums from that astonishing year.