Graham Reid | | 1 min read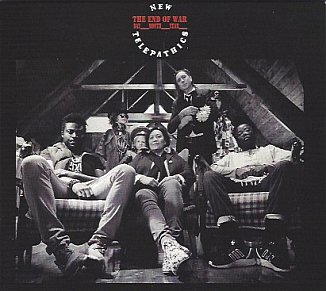 Elsewhere has previously acknowledged the work ethic, diverse musical projects and sheer energy of Auckland multi-instrumentalist Darryn Harkness (who also does his own artwork, produces books and writes poetry etc).
He is particularly enthusiastic about this outing from his long-running New Telepathics (more a project than a stable band) and this perhaps is in part because it is a vigorous synthesis of some of his abiding influences: the cosmic vision and sound of Sun Ra's Arkestra, a touch of Afrobeat and James Brown funk-goes-rap, left-leaning politics . . .
With a large band of guests (singer Sandy Mill, Peter McLennan on guitar, saxophonists Jeff Henderson and Nick Atkinson among them) and African vocalists Nuel Nonso and Phodiso handling the chantdown rap and with influences from waiata, Congotronics, dub and more, this has a roiling energy (the 10 minute Don't Run Away distills many such streams and closes with Harkness in spoken words/astral visionary mode).
We Are Free Intergalactic – stretching past nine minutes, as do Central Station and Paper Scissors War – has an equally addictive Afro-Cuban space-funk groove and some soulful vocals.
As a useful calling card to promoters, the 12-track, percussion-driven End of War suggests that this edition of New Telepathics would pull an audience to its feet . . . and doubtless they will achieve that when they appear at Splore in February.