Graham Reid | | 1 min read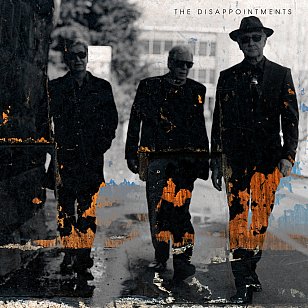 Get past the self-deprecating band name and look closer: Here are singer-guitarist Hammond Gamble and bassist Andy MacDonald who, in the early Eighties co-founded one of the greatest blues-rock bands this country has ever produced: Street Talk.
They toured extensively and fired off two terrific albums, their self-titled debut (somewhat knobbled by the production of big-noting American Kim Fowley who went the whole Springsteen on them in places) and Battleground of Fun.
Those two names alone should get this album serious attention, and the drummer completing this trio is Brent Eccles who joined a later edition of that band after Jim Lawrie's departure and was subsequently in the Angels.
More than just a great tight band, Street Talk also had excellent songs and in Gamble a singer of soul power, further confirmed by his solo recordings after the band broke up.
No surprise then that when these three got together they had plenty of pertinent ideas and the firepower to deliver these 10 songs . . . and the final track, the dense and downbeat Fuck Off Instrumental.
The excellent opener here Blue Paradise is cynical poke at a corrupted utopia (Hmmm, where might that be?) and the bluesy power-pop follow-up is Jack's Got Work But It Ain't All Good which looks at a life trapped on the treadmill where the central character "would have left town if he only could". (Silver Scroll winner Gamble wrote the terrific Leaving the Country decades ago of course as well as classic outsider/workingman's songs like Lonely at the Top and Nine to Five).
There are crafted songs here which sidestep lyrical cliches (the weary survivors' tale of One Trick Up My Sleeve), offer gritty and churning contemporary blues (You're So Wrong and You Say That You Loved Me, note that past tense) and the boiling, organ-embellished Play It Again refers to a Muhammad Ali-like figure and lets Gamble get away yet another a blistering but refined solo.
They also go back to Gamble's self-titled album of '80 for a more punchy and fattened take on Jess is Just a Fooler.
They are not shy of the poetic alongside the earthy, as on the ballad The Sky is a Sea of Stars.
The pedigree of these musicians meant could have feasibly knocked off an album without much effort, but that's not what is here.
The band name might raise a smile and lower expectation, but this is a musically taut, lyrically strong, emotionally deep and memorably classy collection of songs (and that instrumental!) which they have taken seriously.
So we should too.
Hammond Gamble of the Disappointments is interviewed here about his past and this current project.