Graham Reid | | <1 min read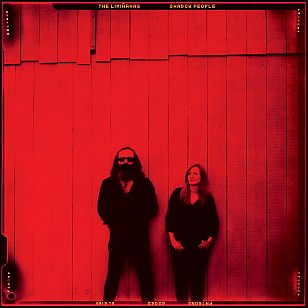 This duo from Perpignan in Southern France near the Spanish border impressed with their previous Malamore in 2016 and now, on their fifth album, they again bring a kind of French ennui-cum-menace in songs midwifed by Brian Jonestown Massacre's Anton Newcombe in his Berlin studio.
Which means in places there are shivers of his neo-psychedelic style in the archetypal and distinctive Liminanas post-punk rock (as on Pink Flamingos with its backward tapes and dreamy vocals, and the widescreen instrumental closer).
The opener Ouverture is a driving instrumental pitched somewhere between surf rockabilly and the primal repetition of Velvet Underground and then, as on the recommended Malamore, it is left to the rumbling speak-sing vocals of Lionel Liminana (in French), Marie Liminana's whispery style and enjoying one of the many guests (among them bassist Peter Hook on the New Order-influenced widescreen pop of The Gift and French singer Bertrand Belin whose spoken style sits well with Lionel's).
There is Link Wray guitar shimmer'n'twang here (Le premier jour), plenty of VU primitivism drumming from Marie (the churning Istanbul is Sleepy with Newcombe, Dimanche with Belin), psyche-pop (Shadow People with a wall of guitars sound), retro-punk pop with more taut twang (the increasingly urgent instrumental Motorizatti Marie), blistering psyche-rock behind Lionel's closely-miked menace (Trois Bancs) . . .
Because it is so easy to pick such reference points, this doesn't quite come off as well as Malamore and Newcombe's aural fingerprint seems especially heavy and directing in places, notably that closer with its organ and trumpet.