Graham Reid | | 1 min read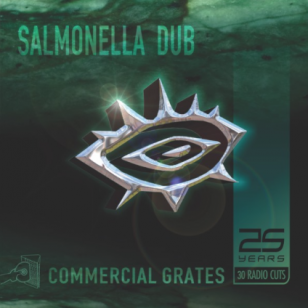 There is no denying the impact Salmonella Dub had when they emerged 25 years ago.
Aside from the exceptional shows and genre-defining, distinctive albums they also paved the way for bands like Shapeshifter, Fat Freddy's Drop, Black Seeds, Trinity Roots and many others, not to mention giving the band's one-time live sound guy then subsequently vocalist Tiki Taane the springboard for a solo career, and remixers like Paddy Free (of Pitch Black, and who produced a couple of SalDub albums) superb material to get creative with.
This collection subtitled 25 Years, 30 Radio Cuts acknowledges much of that history but also the fact that SalDub albums often included stunning material which was far too long for any but the most stoner/groove-orientated – read "student" – radio programmes.
But as the band's Andrew Penman (guitar, keyboards, manager and more) admits, they did learn the art of chopping and channeling material into bite-sized versions for more mainstream radio, "hence the cheese grater in the artwork for this compile".
Among these 30 tracks – from a catalogue of 167 apparently – are two released for the first time: the terrific headphone ride of the dubbed-up World She Waits with singer Nino Birch of Beat Rhythm Fashion recorded last year, and the sonic landscape of Searching for the Sun of five years ago mixed by On-U Sound's David Harrow.
It kicks of with a re-recording of Tomfoolery – the original dates back to the mid Nineties – with Mighty Asterix and others.
Those who have collected SalDub albums and EPs along the way – and its not hard to have half a dozen – won't find too much replication of material here which works in reverse chronology back to a Technova mix of THC Winter from their '95 EP the same name.
Some might note certain tracks absent (the popular For the Love Of It and Tui Dub for example) but the reach here is impressive -- soul-pop on Heal Me to deep dub -- and the constraints of the being shorter versions (averaging about four minutes) mean this can act as a sampler for those coming new to the band – next steps are the deep dives into Inside the Dub Plates and One Drop East – or just a fresh appreciation of this important and distinctively Kiwi band via these edits and remixes.
DJs form a line to the left.