Graham Reid | | 1 min read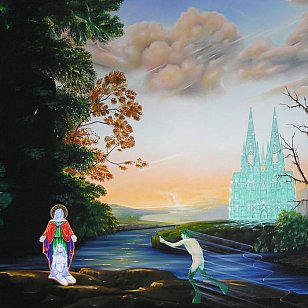 A soft and engaging mix of languid spoken word/poetry by Liz Maw (who also did the cover art) and music by some very well known New Zealand players (among them Nigel Braddock on piano, keys and bass, trumpeter Kingsley Melhuish, saxophonists Ben Campbell and Ben McNicoll, and the late Sam Prebble on violin), these five pieces have a breezy, pastoral feel with the most subtle musical suggestions of Van Morrison's Celtic soul in places (Living for Summer).
But with didgeridoo and congas alongside the soft horns and Ben Lockwood's walking-paced drums, this also has hints of world music, electronica (the increasingly tense Ants which is underpinned by sounds a like a repurposed and enjoyably repetitious Laurie Anderson figure) and ambience (especially in Melhuish's dreamy Jon Hassell-like trumpet work in the quieter passages of Amongst the Trees).
The poised and elegant spirit of Talk Talk is here too but of course Maw's contemplative words and ruminations set it apart, as does the oceanic rise and fall dynamics of these pieces, two of which ease effortlessly past the 10 minute mark. The shortest piece New Wet Weather places Maw's voice at the centre of its brief, pop-song length.
And appropriately given the imagery from nature, the 12 minute-plus title track opens with what sounds like encroaching thunder and a sense of menace in the eerie sonic landscape and Maw's words which speak of divine retribution.
It has been 18 years since Dystopia's debut album The Wisdom of Insecurity but this works with a much more expansive, mature and colourful palette.
Available on digital platforms (and there are a few vinyl copies through their bandcamp page here)