Graham Reid | | 1 min read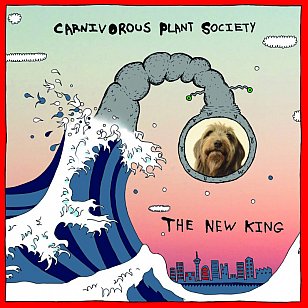 The various members of CPS – Finn Scholes; Tam Scholes, Cass Basil and Siobhanne Thompson, Alistair Deverick – represent an aggregation of talent and are perhaps better known for who they appear with: Respectively Avalanche City and Neil Finn in the case of Finn Scholes, Tam and Thompson with Bannerman, Basil with Bic Runga and Tiny Ruins, Deverick with Lawrence Arabia and Neil Finn . . . among others.
Nearly four years ago Elsewhere acknowledged their self-titled debut as attempting – albeit pleasantly – to deliver all things in its musical diversity.
Ditto with this one where the title track instrumental is like sultry Mexican funk, there are vague suggestions of Chinese/Eastern melodies (Carp in a Pond), a piece entitled Swamp Bossa, more than a few which sound like soundtracks waiting for a movie (the romantic spaghetti-western twang of Dry Spell, Journey of the Sacred Crystal), charmingly meandering pop (It Has One Eye with Lawrence Arabia) and more.
Don't Go Outside featuring McGlashan and Fullbrook is very catchy downbeat pop.
There are spoken word fables interpolated (written by band leader Finn Scholes) and guest vocalists are Holly Fullbrook/Tiny Ruins on the dreamy Car Dance, Lawrence Arabia, Don McGlashan and Hayden Eastmond-Mein.
The fables don't stand too many repeat plays and again CPS present something which sounds like a very convincing calling card, albeit more focused than its predecessor.
Engaging, admirable and beautifully presented on CD but the parts – some rather lovely – don't quite make for a cohesive whole.
Carnivorous Plant Society - The New King Tour
23 March, Titirangi Music Festival
30 + 31 March, Waiheke Jazz Festival
6 April Napier - Sitting Room Session
7 April, Moon, Wellington
13 April, Tuning Fork, Auckland (with Eb & Sparrow)
14 April, Butter Factory, Whangarei - free show!
15 April, Leigh Sawmill