Graham Reid | | 1 min read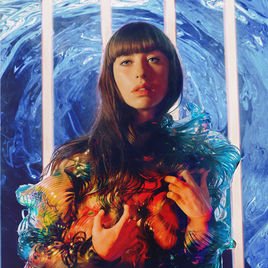 Further proof of the benefits of leaving the comfort of home and a loyal local following to try your hand in the wider world.
Kimbra out of Hamilton made that leap early in her career when she started to feature on Australian electronica singles (most notably on the Gotye single Somebody That I Used to Know), became as big across the Tasman – where she had relocated – as she was in her homeland, enjoyed notices in Rolling Stone and the US, starting getting a checklist of collaborations and work with Seriously Major Players (John Legend, Thundercat, Flying Lotus among them), recorded her Golden Echo album in LA, relocated to New York for this follow-up and . . .
She always seemed to be aiming high but keeping grounded, has traveled widely (most significantly to parts of Africa for an organisation working with women and children with HIV) and . . .
In terms of music she also covers the waterfront: obviously r'n'b and electronica are fundamental but she was in a jazz choir as a kid and with her vocal flexibility -– as witnessed by As You Are on The Golden Echo which has a string part by Van Dyke Parks -- not mention big lungs, mean she can tap into a number of genres.
But rather than consolidate within the broad parameters she has established, this new album finds her pushing out in other interesting directions . . . and that album title is in part a clue.
Top of the World here comes with her breathy and deliberately almost-breathless vocals over a beat and women on backing vocals which seem half-heard in Africa and ironically commenting on that title, feeling like a god way up there.
She adeptly skewers the pop culture world she inhabits (the Eighties synth-pop of Like They Do On TV) and explores some self-analysis and emotional regrouping (Recovery) yet doesn't move too far from the pop which carries this (the instantly familiar but fresh Lightyears).
She effortless throws in a cleverly swinging r'n'b pop on the catchy but pointed Everybody Knows ("I ain't gonna lie but I ain't hold back . . . don't make your promises because I'm finished with all that . . . the whole world's watching you") and explores a soulful r'n'b on the adult Black Sky ("tonight I'm gonna be with you, show you a side you never knew").
Past Love look back at mid-Sixties Motown through a contemporary lens and Version of Me is a spare piano'n'strings ballad which oozes a soulful ache.
On her last album, as Elsewhere noted at the time, you came away with the impression that Kimbra was sometimes a voice incidental to the production and studio technology.
This mature album – in lyrics and musical breadth – is much more focused and, despite those stretches into different territory, not as scattershot.
Yet by the end you are also left with the feeling that, excellent though this is, the best may be yet to come because singer/writer/producer Kimbra is a true artist and possesses a rare and confident vision.