Graham Reid | | 1 min read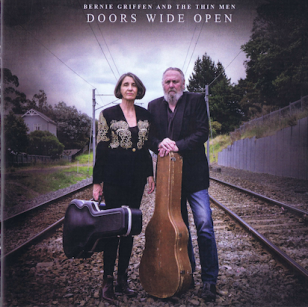 From the Latin shuffle of the opener here on the self-lacerating My Brain Exploded ("I just can't focus, I argue with myself") it is clear this journeyman songwriter and late bloomer (when it came to recording) is stretching into new areas, something very personal.
By his own admission, Griffen is in ill-health – much of it self-inflicted – and here are intimations of mortality, as on When I Die where, over a light honky-tonk style, he pays tribute to a long life with partner/guitarist Kirsten Warner who sings it with fragility, with him coming in later as the lyrics address that final and inevitable farewell.
As with the best country songs in that style it balances the maudlin with the sentimental and the nakedly honest.
Death is also there in I Fell Out of the Sky, a cracked and bluesy ballad about a wreck on an Australian highway ("I'm glad it wasn't me, too young, too sad to bear") and the itinerant life of the working musician (I've got restless legs"). The title track also addresses the travelling life.
The blues is evident too in the archetypal Americana Truck Song (driving, the love of Jesus Vs the Devil who has more fun).
Warner also takes the opening lead on both the Spanish-influenced Maria (with accordion) which is another melancholy ballad and The Wedding Song – a narrative duet – which is a country waltz with just a hint of European cabaret about it. You can imagine the latter playing as the end credits roll when an old couple who've seen it all dance together in their empty home.
Although no one – and perhaps neither of them – would claim Griffen and Warner possess strong voices, the quivering uncertainty of Warner and Griffen's rattling gravitas actually work on most of these songs which are often unashamedly sentimental and reflective (Sweet Obsession).
Sometimes the honesty of a lyric lies in its personal delivery more than polished melodic perfection.
These are imperfect people who acknowledge their shortcomings and strengths in heart-bearing songs.
For more on Bernie Griffen at Elsewhere start here.
THE DOORS WIDE OPEN TOUR
May 17 - Point Chevalier Library, Auckland, for NZ Music Month
May 25 - The Refinery, Paeroa
May 26 - The Incubator, Tauranga
June 3 - House concert, Napier
June 4 - Acacia Bay Community Centre, Taupo
June 10 - The Rogue Stage, Rotorua
June 15 - Kumeu Live, Auckland
June 29 - Meow, Wellington
June 30 - St Peter's Hall, Paekakariki
July 6 - The Great Southern Tuning Fork, Auckland