Graham Reid | | 2 min read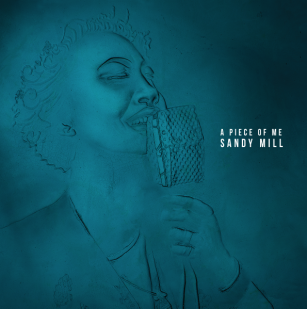 It has probably been said by everyone writing about this album but it bears repeating: Sandy Mill is the singer whose voice you've often heard (with SJD, Neil Finn, Dave Dobbyn, Don McGlashan and many, many more) but whose name may still be unfamiliar.
This five-track EP -- which actually plays like an album in its breadth and I believe qualifies as such these days – is not just a chance for her to step out under her own name but also to have her original material in the centre of the frame.
Needless to say she has some remarkable talent alongside here, a cast which has the core band of Milan Borich on drums, bassist/husband Andrew Park and guitarist Jeremy Toy with backing vocals from Sean Donnelly (aka SJD), Dianne Swann . . . and that excellent and seasoned BV artist Mill herself.
And while she could have cluttered this with other guests for impact she keeps things tight, just percussion/keyboard player Darryn (New Telepathics) Harkness and her son/pianist James Park (on the big Eighties sound of the opener Let It Go).
Aside from that arresting opener there are two immediate standouts.
First is the soulful and sonically stacked Hey Debonair which opens as a brooding and seething ballad of resentment and explodes with righteous anger and a landslide of backing vocals, guitar and clanking percussion. It packs a lot of emotion and musical information into four minutes then the final minute is a real deep soul stomp. Mill comes off as woman not to be messed with.
Elsewhere, and at the other end of her spectrum, is the terrific Giftbox – which opens the second side of the limited edition vinyl edition – channels the spirit of the great girl groups of the early Sixties, Phil Spector's influence from Spanish street music and has the kind of constraint and focus which attests to her songwriting gifts . . . and a wonderful vocal range which never sacrifices emotion in order to impress. (And it comes with an excellent, searing guitar part by Toy.)
In fact the second side (the final two songs of the five) is where Mill makes her strongest impression as a writer and singer: the final track Charade largely dials the emotion back into a ballad which rides gritty guitar and again looks back to classic women soul singers and Eighties pop-rock ballads.
So impressive are these two songs they tend to overshadow the others but that opener – which really does have stadium-rock (Heart, Benatar et al) writ large on it – has understandably been released as the first single.
Truth be told though although it makes the statement it needs to, the better songs – those with more legs – all follow with the funk-rock of Light of Day, that superb punch and jab of Hey Debonair and Giftbox then the strong closer Charade which distills and refines some of the elements of the Let It Go genre to create something more reflective and nuanced.
As an initial calling card for a solo career this more than established Mill and my guess is once you hear this – especially those two singled out – you will be wanting more immediately.
In that there is good news in way, there are remixes available.
These are Aston Maxi's pared back and glitch-funk rehit on Let It Go; Dean Webb's 10 minute clubland mix of Giftbox which also comes in a slightly truncated radio mix; and a more driving psychedelic-cum-techno Let It Go by Misled Convoy (also with a radio edit)
These all allow Sandy Mill's voice and songs to stand in very different settings from the album.
And she will impress you all over again.