Graham Reid | | 1 min read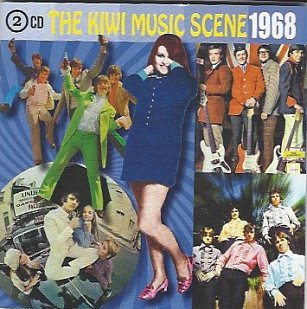 By any measure, 1968 was an extraordinary year in global politics: the year began with the Tet Offensive in Vietnam, rolled on through the student and workers' revolution in France, the assassinations of Martin Luther King and Robert Kennedy, the Grosvenor Square anti-Vietnam protests in London . . .
In music there was radical chic as the Stones went back to their blues roots for the lyrically ambiguous Street Fighting Man ("what can a poor boy do but play in a rock'n'roll band") and Lennon tried to have a bob each way on Revolution ("Don't you know you can count me out/in").
In more remote New Zealand however, we were almost apolitical and pop music was paramount, although some artists had split off into harder rock, big ballads, folk covers . . .
This double album – which comes with a month-by-month full colour booklet of posters, photos and album covers – offers a widescreen snapshot of the New Zealand music scene half a century ago.
There is a good selection of the pop-rock bands (Larry's Rebels, Avengers, Fourmyula, the Action, Avengers, Ahmed Dahman Group), blues-influenced players (Human Instinct, Underdogs, the folk-blues end through Abdullahs' Revenge), a touch of psychedelics (House of Nimrod, Hi Revving Tongues), women singers (the Chicks, Allison Durban, Sandy Edmonds, Yolande Gibson), solo males (Mr Lee Grant, Ray Columbus, Shane, Tommy Adderley, Gene Pierson, Lew Pryme, Robert Genari) and even Ernie Rouse Trad Band and the Hamilton County Bluegrass band.
Oh, and Coke jingles by Larry's Rebels and Allison Durban.
Another remarkable labour of love and further archiving our past by Grant Gillanders.