Graham Reid | | 2 min read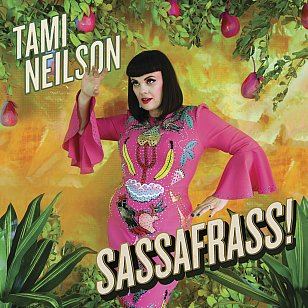 Taking its title from the description of a sassy person rather than the plant, this new Tami Neilson album not only expands her musical horizons even further into songs which mostly which have their roots in the music of the Fifties, but also delivers a strong and over-riding ethos of female assertion and empowerment welded seamlessly onto these great songs.
The women here are devil-angels (the sultry Devil in a Dress), brassy (Miss Jones about the late Sharon Jones and whose spirit walks through some of these songs) or newly single . . . as in the woman fighting off the advances of sleazy males on Diamond Ring while living with the painful memory of a marriage: "Don't need the pain that lovin' brings, don't want no other man's diamond ring".
One Thought of You is a classic Forties/Fifties ballad with strings which shifts easily between the offspring of ballads like The Very Thought of You and Patsy Cline.
There are handclap soul stompers here too, notably the swaggering opener Stay Outta My Business ("the only business you got is your own") but more sensitive is A Woman's Pain. It is about a young woman on a reservation abandoned to raise her child alone. It owes a musical debt to Bobby Gentry's Ode to Billie Joe: "The hand that holds the power assigns the blame and this old world turns on a woman's pain".
There's fueled up rockabilly on Kitty Cat ("I bought you dinner, now I'm here to stay") and the ache of distance and love on the lovely Manitoba Sunrise at Motel 6 and the quiet closer, a newly minted Southern country-soul classic in Good Man.
Smoking Gun poetically addresses the shame of Weinstein and the male-dominated Hollywood system in a slow, blues burner where "there's a predator creepin' in the pool, the king of the casting couch which he rules".
But here too are songs shot through with wit, notably the playful-sounding Bananas which combines the essences of Mambo Italiano and Come On A My House, a smattering of faux-exoticism in the manner of Martin Denny, a contemporary lyric about inequality in the workplace and some phallic imagery: "It's bananas, she wants equal pay just for working all night and day . . . bananas everywhere".
The breadth of Neilson's musical palette is remarkably broad and her lyrics are refined, intelligent and seem married to her melodies in a way which is rare.
Credit of course also goes to her occasional co-writer and brother Jay (and her late father Ron who gets the co-credit on One Thought of You), and the stellar musicians here in her Hot Rockin' Band of Rhythm (drummer Joe McCallum, pedal steel player Neil Watson, guitarist Brett Adams and bassist Mike Hall) as well as many others like guitarist Dave Khan and string arranger Anita Clark.
Recorded by Neilson and Ben Edwards at his Sitting Room studio in Lyttelton, Sassafrass! Is another milestone for one of this country's most consistent and consistently classy performers and writers.
Another gem in an already valuable catalogue.
For more on Tami Neilson including a video essay at Elsewhere see here. Sassafrass! is released June 1