Graham Reid | | 1 min read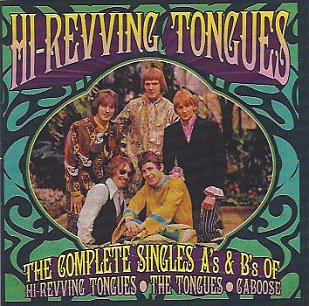 Elsewhere is prepared to say it knows next to nothing about this New Zealand band from the late Sixties into the early Seventies, aside from a few singles: A Tropic of Capricorn, the heavily phased Elevator and Rain And Tears.
And until this 24-song compilation by Grant Gillanders – which comes with a booklet of artwork, and an excellent essay which includes interviews with band members – that they morphed from the Hi-Revving Tongues into the Tongues and then Caboose.
Along the way they used smoke bombs and homemade strobes and pre-recorded explosions (and a burning bass guitar) which must have been something to see.
This early stage act sounds somewhat at odds with their sophisticated pop and singer Chris Parfitt's powerful delivery of ballads.
They seemed caught between a rock and a pop place: their first single was The Psychedelic Illusion and Elevator (a cover of a Grapefruit single) was also psyche-pop but their biggest hit was the ballad Rain and Tears. It was a cover of the Aphrodites Child hit which was based on Canon in D by Pachelbel (1653-1706). It went to number one and scored them the Loxene Gold Disc group award.
They also covered soul (Baby I Need Your Loving), blues (a largely unconvincing Little Red Rooster) and had a nod to jazz (Herbie Hancock's Watermelon Man which was the B-side of Rain and Tears).
But what is impressive here in the Hi-Revving period are the originals by Malcolm Balcombe and Parfitt (the latter wrote Tropic of Capricorn but also had a folk-cum-chamber pop spirit as on Make Yourself at Home). Then by new bassist Graeme Thompson during their Tongues years.
They had success in Australia but inevitable line-up changes meant also a change in sound and by Caboose the influences seemed to be more from folk rock and Elton John/Bernie Taupin's country-funk (Caboose's sole single The Ballad of James A Lane b/w Casey's Hat Part 1 and the two previously unreleased tracks at the end). Which makes sense given they covered their Take Me to the Pilot, so were clearly listening.
So here's a fine history of a shape-shifting band following the thread of their singles and through their changing styles and influences.