Graham Reid | | 1 min read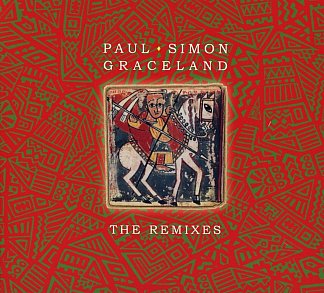 The just published biography of Paul Simon by Robert Hilburn – written with the songwriter's full cooperation but without further interference – confirms how meticulously Simon constructed his lyrics and music on albums like the Grammy-winning Graceland.
So there's an irony about this album in which Simon's songs are deconstructed by various remixers, DJs and studio boffins.
Those who thrilled to the a cappella voices of Ladysmith Black Mambazo on Homeless will be surprised that they are almost entirely erased from the Joris Voorn remix in favour of a looped sample of Simon's voice ("somebody say . . . why why why") woven between a relentless beat and a repeated guitar figure.
And that in the MK and KC remix of the title track also delivers wide swathes of beats and punctuating synths lacking in much subtlety which strips out the pathos of that song (as well as some key lyrics) and thus rendering it incidental to their dancefloor ethic.
Gumboots remixed by Joyce Muniz is similarly rendered in that it whips out the accordion substructure and most of the Boyoyo Boys but rides a similarly joyous (electro) dancebeat beat with Simon's vocals echoed, looped and delayed. It is some distance from the original but among the more successful revisions here in that it becomes something of its own.
Groove Armada's dub redemption remix of You Can Call Me Al – stretched out to seven and half minutes – takes a small vocal sample and repeats it to such length that a friend said he thought the disc was faulty, but if you've heard early Steve Reich loops and Groove Armada's best it actually makes weird sense. Although again Simon's witty original isn't really part of this until more than halfway through its length where they pick out a horn riff to repeat. You'd be surprised to learn this track's source material in fact on a cursory hearing.
The Richy Ahmed remix of The Boy in the Bubble is excellent in that it keeps the tension and the groove of the original but kicks it into stirring electro-pop.
The odd thing is that all these remixers have a simple default position: the dance beat.
Few offer a more imaginative direction which was surely there given the richness of the source material – African guitars and voices, zydeco, the Everly Brothers' backing vocals etc – although Photek's interesting remix of The Myth of Fingerprints alludes to some elements in the original.
The final piece is another short reconsideration of Homeless by Joris Voorn and this album's guiding compiler The Duke of York (aka New York Michael Gaiman) which keeps the Mambazo vocals and adds a sonic landscape. Hmmm.
This album – approved of by Simon – mostly disappoints for the sheer lack of imagination the various remixers bring.
At the end of Hilburn's biography Paul Simon; The Life – which comes right up to this year – Simon is talking about going back to some of his favourite but least known songs and reconfiguring them with fresh ears.
That album would be much more interesting than most of this.