Graham Reid | | 3 min read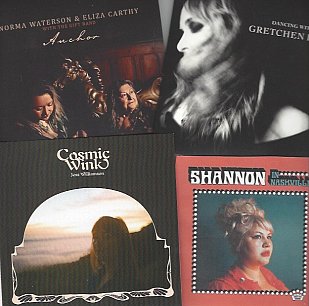 With so many CDs commanding and demanding attention Elsewhere will run this occasional column which scoops up releases by international artists, in much the same way as our SHORT CUTS column picks up New Zealand artists and Yasmin does with EPs.
Comments will be brief.
.
Norma Waterson and Eliza Carthy: Anchor (Topic/Southbound)
Elsewhere's fists usually tighten when confronted by worthy, traditional British folk, especially when it comes from venerable legends like Norma Waterson (now 78) and her daughter Eliza Carthy. And here, sure enough, are songs beamed in from the musty past like The Elfin Knight (part bucolic rural story, part shanty) and the seemingly endless fiddle-scrape of Nelly Was a Lady (seven and half minutes) and Scarborough Fair which you probably need to hear in a pub with a pot of scrumpy in hand. But . . .
Waterson opens this with her gritty take on Tom Waits' Strange Weather (which gives Marianne Faithfull a run for her money in the weatherbeaten stakes) and later are Nick Lowe's dark The Beast in Me (Carthy closer to his version than Johnny Cash's treatment), Kurt Weill's cabaret-ennui of Lost in the Stars and most surprising The Galaxy Song by Monty Python in a jaunty music hall style. Marty Carthy takes Scarborough Fair right back to the rustic village, and it all goes out with light family singalong on Twinkle Twinkle Star which isn't quite as twee as it sounds.
The fists unclenched a third the way through the opening track and mostly stayed that way.
Strange Weather, Norma Waterson and Eliza Carthy
Gretchen Peters: Dancing with the Beast (Scarlett Letter/Southbound)
Hard to believe but this great singer-songwriter (whose award-winning work has been covered by everyone from Neil Diamond and George Strait to Etta James and Shania Twain) is now 60. But here she sounds as contemporary as many half her age as she deals with the lives and thoughts of women of all ages (the girl in the startlingly convincing Wichita is a troubled 12-year old) and deliver an album full of female empowerment wrapped up in memorable country-framed songs. Peters convincingly writes from within her characters (the young anxious women in The Boy from Rye, the self-aware hooker in Truckstop Angel who wonders if she is predator or prey) and pens spare lyrics which hook you in immediately: "I spend a lot of time here in the lowlands, mostly keeping to myself . . . ever since he put that sticker on his bumper I just turn out the lights and lock the door . . . I don't know a soul who's sleeping well" on the haunting and uneasy Trump-era Lowlands where the television lies to keep you watching and "the man who lies for the sake of lying, sell you kerosene and call is it hope".
An exception writer and singer right at the top of her game. Still.
Lay Low, by Gretchen Peters
Jess Williamson: Cosmic Wink (Mexican Summer/Southbound)
Some may well be a little confused by this third album from the former Texas-based singer songwriter now happily embedded in LA. Previously she was of the more dark persuasion but here a guitar jangle and serious pop consciousness elevates these songs (I See the White) where her vocals sometimes touch on a more comfortable Patti Smith (Thunder Song), the artful moods of Angel Olsen, a serious but languid country-yearn (the slightly spooky Wild Rain) and the more pop end of her friend Kevin Morby who she has opened for.
The immediate standout is the easy roll of White Bird which is understated and although it evokes a late Sixties vibe seems very much in line with the lineage between Stevie Nicks and Courtney Barnett. There is a an emotional warmth here, a sense of gratitude – but just a little emotional unease – for the love and the life she has ("love is my thing now" on Love On the Piano). This broods when it needs to, but mostly pulls you in with a sense of optimism and hope which never feels facile.
Recommended.
Awakening Baby, by Jess Williamson
Shannon Shaw: Shannon in Nashville (Nonesuch/Warners)
Singer-bassist Shanon Shaw emerged out of the LA indie/punk scene in Shannon and the Clams about a decade ago but her big voice – which can go from classic Fifties string-soaked pop, through girl groups to Dusty Springfield-inspired ballads to ballsy Etta James blues – was always destined for different things. Working in Nashville with Black Keys' Dan Auerbach and the cream of session players for this debut solo outing, she penned a widescreen selection of songs which have the belt'n'bellow of Shirley Bassey, the soul stomp of Jeff Barry-gone-Motown, Brenda Lee and Jackie de Shannon reconfigured for the post modern 21stcentury (Cryin' My Eyes Out) and so much more. Her lyrics are often peppered by self-analysis and the awareness that this is her opportunity to make a mark. And she does.
Maybe she showcases a bit much over these 13 songs but her range is undeniably impressive and she's staked out a lot of ground she can further explore. Put aside some time for Shannon Shaw.
Love I Can't Explain, by Shannon Shaw