Graham Reid | | 3 min read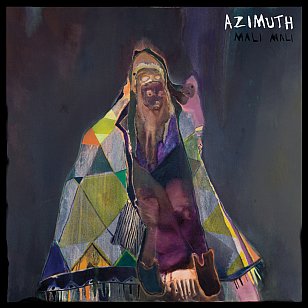 The label here may be a pointer: Local artist Mali Mali (aka Ben Tolich) recorded the eight songs for this, his third album, in the basement of his parent's home and the ambience of delay and echo, lo-fi piano and intimacy is ideally suited to these reflective, highly personal and self-referential songs.
The idea of "sensitive singer-songwriter" (to adopt the argot of the early Seventies which applied to the likes of the various Taylors and Joni Mitchell et al) sort of applies here . . . but in a much more post-Cohen/less self-obsessed Sun Kil Moon/Sufjan Stevens/Elliott Smith way.
At heart Tolich is a traditional songwriter in that on piano he establishes his melodic structure and weaves his words over it. Blizzard early up is a delightful ballad which evokes the slightly eerie midnight/weather/emotion he sings of.
There is a similarly beautiful and evocative mood to the delicate When We First Saw Saturn's Rings (gently tumbling piano figures, an intimate story unveiled and cello to underscore the moment) and you'd be remiss if you didn't hear something of Don McGlashan's work evoked (consciously or otherwise) in it.
As happens later on the song/poem Ruru Cry.
For Tolich too the words are planks and the music is somewhere behind the authorial architect's plan in a speak-sing piece redolent with religious (very Catholic) references . . . and the song which has lead into it is the disconcerting Hunting You Down: "In my (My?) name they prepared your room, then they collapsed the dune . . . you were free to go under one condition . . .".
That old religious stuff from childhood – or wherever -- imbues many of these songs, which is not uncommon but of course provokes and much as it invokes.
The sense of quietude and stasis in the lovely if slightly uneasy instrumental A Tornado in El Reno which precedes these songs is a real pivot here.
Not everything works so persuasively: The lines and imagery of Jesus Ain't a Horrid Word stumble over the melody and structure as he tries to say too much when less – or a more expansive melody – might have allowed for more. It sounds like an imagistic poem crammed into a song.
And the opener Remembrance is certainly not his strongest song here, unless you are one of the few who knows and accepts the Incredible String Band's wayward approach to melodies, dynamic and lyrics. If you ain't then start with Blizzard and jump to the trip into Saturn's Rings, Tornado and beyond.
But for most of this too-short album (a full song shy of a half-hour), Mali Mali announces himself as someone increasingly different and that is the good news while you might suspend judgement on a couple of pieces.
Just a side note here however: On Spotify the "popular" listing for Mali Mali interpolates a piece into this album from his previous album, As a Dog Dreams. And it is worth hearing, even in this new context.
It is You Chose Your Friends carefully and it has a wonderfully engaging, but not self-pitying, opening couplet over acoustic guitar and piano: "Twenty-six years old and they open the door for me, never had I been so alone in such great company . . ."
The weariness he imparts and where the song goes after that is compelling in its emotion . . . and damn if it again doesn't sound also sound like something Don McGlashan might have written, ignoring the obvious and requisite rhyme in favour of a reality which is quite raw . . . as the truth often is.
But if you are just listening to this Azimuth album – that title is key also – then it goes out with the restful and reconciliation of Wavelength, one of those front parlour/parent's basement songs which sounds almost like you are eavesdropping.
Not without it's flaws and over-earnestness in places, but a small collection worth exploring.
Mali Mali 'Azimuth' Tour
Friday 6th July- Dog with Two Tails, Dunedin w/ Hot Wizard
Saturday 7th July - Lyttleton Records, Christchurch w/ Ryan Fisherman
Thursday 12th July - Lucky Bar, Whanganui
Friday 13th July - Bicycle Junction, Wellington w/ Grawlixes
Saturday 14th July - The Stomach, Palmerston North w/ Finn Johansson
Friday 20th July - The Wine Cellar, Auckland w/ Jocee Tuck