Graham Reid | | 1 min read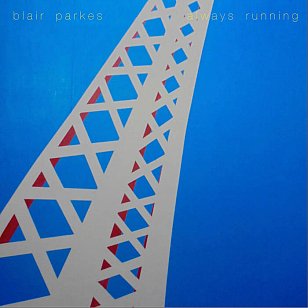 Out of Christchurch, Blair Parkes is a multiple threat whose work encompasses – and impresses in – artworks, writing, photography, videos and music.
He started in the Flying Nun band All Fall Down but has moved through a number of others (notably The Letter 5) and then into a solo career which embraces everything from acoustic guitar releases through to blazing and fuzzed-up pop . . . as on this new album which comes as widescreen, buzzing pop-rock songs with engagingly intimate multi-layered vocals.
In many instances, driven by relentless and almost motorik pulsing beats and great chunks of guitar chords, these songs have a forward momentum which is utterly gripping, like the Clean hitching their wagon to exploratory Krautrock on the opener None Of It Matters.
There's also the crashing and student radio-friendly Heavy Lifting which comes with addictive backing vocals beamed in from the early Sixties, the exciting Always Running, What's Love with a wash of keys adding extra sonic breadth . . .
Yet none of this is overwhelmingly dense because these songs are concise and as driven by melody as motion. And there's a lovely breathing space with the lighter So Special Now and the airy power pop of Sweetest Darkness.
Parkes handles most of the chores himself with Ryan Chin (drums) and backing vocals from Miss Mercury.
There's a real arc to these eight songs as they move from sonic density and lean into the wind at the start and after the halfway mark let themselves relax and rest . . . and the final piece All I Saw positively levitates.
This is quite a journey, and one worth taking.
Check out the breadth of Blair Parkes' creativity here.