Graham Reid | | 1 min read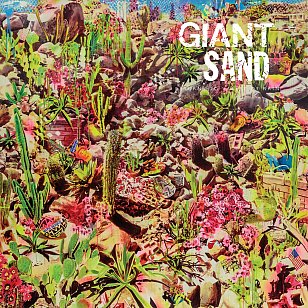 Even for the most ardent Giant Sand/Howe Gelb fans this "new" album comes with an odd provenance.
The original Valley of Rain album was the band's impromptu debut recording in LA released back in '85, in 2010 there was a 25thanniversary reissue (of that little heard debut), in 2015 there was Beyond the Valley of Rain (which reissued the album on vinyl with another record of live tracks by the pre-Giant Sand band Giant Sandworms as well as GS recorded in Holland with Rainer Ptacek) and now mainman Gelb has taken the group (with some of the original members from the first recording) back into the studio for another recording of the songs.
The reason was because Gelb was dissatisfied with the original sound and even though this time around they've used some period equipment – and knocked it out in a day and a half, just as they did in '85 – it is . . . interesting.
Gelb's voice has deepened and darkened over the decades so where songs like Barrio and Death Dying and Channel 5 had a solid pop-rock/Neil Young quality originally now they have more gravitas and a sense of threat.
Man of Want now sounds much less like a desperate country-rock take on the Doors.
The Johnny Cash train-clack guitar of Artists is now barely there and Gelb gets close to the mike for more of his extraordinary intimacy which has been the hallmark of much of best work the past couple of decades.
Always a fine songwriter (across a number of genres) and an increasingly impressive singer, Gelb is right to revisit his various pasts – there has been an excellent and on-going reissue programme – and this is an interesting project.
But one for Sand/Gelb completists.
Elsewhere has a considerable amount about Howe Gel/Giant Sand and Gelb solo projects -- and a fascinating interview with Gelb -- in its archive starting here.