Graham Reid | | 3 min read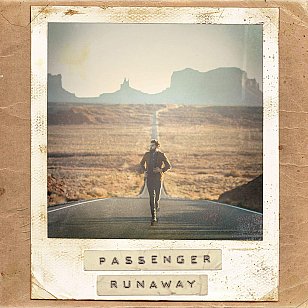 British singer-songwriter Passenger (Mike Rosenberg) has not only etched himself in his homeland – an Ivor Novello Award for Let Her Go, the most performed song of 2014 there, which gave him a number one single here – and a couple of his subsequent albums did serious damage to the charts in this country.
His album Young As The Morning, Old As The Sea of two years ago got a critical drubbing in some quarters because it lacked a similar repeat-play hit-factor . .. but we here thought it did and gave him a number one with it.
For some he's like the love child of pop-folk David Grey and Paul Simon, to a few he's a more viable and hip-credible alternative to the adulation around Ed Sheeran.
However you choose to hear him – and it's always preferable to hear someone for who they are rather than what they aren't – there's something about him which seems to hit a pleasantly uncontroversial mid-ground in the Venn Diagram of pop-smart singer-songwriter/sometimes twee and mundane lyrics/emotional folk-pop.
This outing with banjo, a more downbeat mood, guitar twang and pedal steel looks more towards the mainstream of what was once American alt.country . . . but it's a hard heart which would cynically dislike or ignore the easy audience-embrace Why Can't I Change.
But yes, elsewhere cliches abound as on Heart to Love after the first verse which ends on the diamonds/coal metaphor then dilutes itself into "searching for a heart to love is like staring at the stars above, there's a million I can see but only one shines for me . . ."
That's either a bad Rod Stewart lyrics from the Eighties or the inscription in a Hallmark card. And admittedly Let Her Go had similar failings.
But between that spectrum of country-pop pleasures and the banal are more than enough acoustic-framed songs which parlay Passenger as a contender in the contemporary sensitive singer-songwriter category, and now with a bit more country on his palette (which he attributes to his US dad and the country where they would spend holidays).
He Leaves You Cold works as keen a metaphor of the unworthy new man from a jilted lover's perspective which in its own way is as bitter in its emotion (if not musical delivery and failed by the odd dropped lyrical opportunity) as any early Dylan on a similar theme;
But when he gets down the mine of his soul on the spare acoustic Ghost Town (not the first to adopt that title but certainly not an unworthy entry in its socio-religious references) you can hear an important depth: "Take a walk in a ghost town, sky as black as crow, they don't make cars like they used to here, times they change, factories close, take a ride on ghost train, stare at the windows . . . sometimes it gets so cold down down here . . ."
That seems as astute and pointed as anything Springsteen has written about Detroit/those factory towns and if Passenger is following in those footsteps he also makes his own memorable statement. However you cut it, it's a damn fine song.
If there's a problem, and there is, it's that –- as we always say at Elsewhere – he "broadcasts on too narrow a frequency" in that his same-same vocals are applied to diverse musical and emotional settings: that abandoned Detroit and his emotional life in the same .
But he's persuasive when sings of the post-war Jewish diaspora to New Jersey, South Africa, France and beyond in the lovely piano ballad To Be Free. It is initially an autobiographical piece about his dad and his battered people as a Jewish immigrant from Europe "like feathers on the ocean breeze they went spinning and tumbling across the sea", but he adopts a Scottish image in "heather on a hillside they were bruised and battered by the breeze" then opens out into people searching for a place to be free and something more simple, "the soil and the sun . . . now here I am 33 years down down, 2017 . . . a feather in the wind."
To Be Free is an understated and moving family/generational story . . , and then it surges into the folk-rock negative/uplift dichotomy of Survivors ("are there any survivors in my heroes or am I here alone?") which might be read as the losses in rock music in the last few years . . . but Michael Rosenberg (who in the closing overs appears here as himself), is thinking bigger and more deeply as the strings and pedal steel come in.
"Survivors" is an important and freighted word within the Jewish world.
It's possible to read – maybe too much? – this Passenger album on many levels.
But when it works, as it mostly does, he really brings the songs home.
This album is available on single and double CD, single and double vinyl through Border.
PASSENGER' S RUNAWAY AUSTRALASIAN TOUR DATES
Tuesday, 13th November: Powerstation, Auckland
Thursday, 15th November: The Tivoli, Brisbane
Saturday, 17th November: The Forum, Melbourne
Sunday, 18th November: Enmore Theatre, Sydney
Wednesday, 21st November: The Gov, Adelaide
Friday, 23rd November: Astor Hotel, Perth
Sunday, 25th November: 3 Oceans, Margaret River