Graham Reid | | 1 min read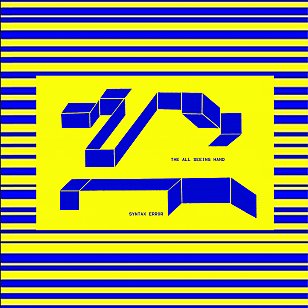 Frankly, Wellington's All Seeing Hand confuse me. They were thrilling at a Laneway two years ago when they delivered a magnificently punishing set which had all the intensity and power of pneumatic drill and a concrete cutter with metal-edge throat singing and stabbing synthesiser and furious percussion. They were the undoubted and most memorable high point of a busy day.
But their album later that year Sand to Glass – while sometimes approaching that intensity and excitement – defaulted to what I described as a kind of conceptual electro-prog.
And this new outing seems to go even further in that direction with the electronica and the stentorian, portentous mood (as on the two short Sulaco Theme instrumentals which seem like soundtracks to an alien/Alien landing).
The glitch-electronica, effects and mashed samples over the strident percussion works well on the title track, the brittle Eighties video-game bleep-pop of Spectrum and Geronimo III (the latter a three-part piece where Jonny Marks' vocal becomes another effective and establishing noise in the landscape, in last half the chant and staccato electronics evoking some Native American chant from a tribe on a strange planet).
Want Want is another allusion to some dystopian, oppressively industrial place where Marks sounds in genuine pain and desperate to escape whatever machinery control this blighted place. And it leads into the equally abrasive Mutations (with a soaring and exotic melodic line which sounds like a shehnai).
These two final tracks are among the best and most bruising here, along with the shouty and battering Hoffman.
Marks' throat-singing is among the band's impressive artillery but too often here it is reduced to gestures, and after a stuttering percussive set-up Every Leader ("needs a war so let's give them one") sounds alarmingly like Adam and the Ants' take on Burundi drumming and a declamatory, chanted pop chorus.
The martial pace of Royal Oil sounds less experimental – a word frequently applied to ASH – than retro, a throwback to early Eighties industrial gloom.
So again a somewhat uneven album which you actually might want to sound much louder and more claustrophobically intense to do justice to the bleak vision at its heart.
They again, in recording, seem to have become more selective about their audience. And the unusual elements they work with deserve, as do we, the sense of firepower they deploy on Hoffman and live.