Graham Reid | | 2 min read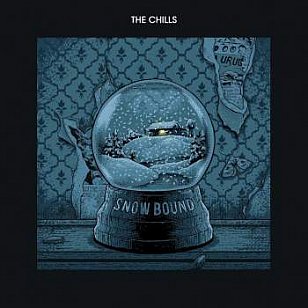 In a typically forthcoming interview with Elsewhere recently, Martin Phillipps – mainman of the Chills – observed that their last album Silver Bullets of 2015 (19 years on from the previous studio album Sunburnt) was in small part a clearing house of songs he'd been sitting on. So he could understand why some said it was just him tidying up scraps . . . but, he asserted, this new album of recent songs should confirm the Chills are still viable and strong.
Always a writer who had a mature outlook (think right back to Pink Frost and Leather Jacket) alongside a melodic gift (it really was a Heavenly Pop Hit), Snow Bound finds him looking at life from where he – and his generation – are at now.
Time to Atone is about the realisation of wrongs done, the hurts meted out and the need to accept that we "make mistakes and cause heartache" but it's time to wake up and atone; the bruising power-pop of Scarred is for the battle-weary fiftysomethings who have suffered the hurts themselves ("I must protect myself, I must stay on guard, I'm scarred . . . you're not free to take a piece of me"); and the title track conveys the urgency of feeling trapped in a city/a life knowing "you once had a zeal and preached real loud . . . you don't feel passion now more".
In that interview Phillipps also noted that people have commented on how upbeat the songs are and laughed, "Wait until they read the words"!
This is adult stuff, and The Greatest Guide is a loving tribute to those role models and trailblazers (musical and otherwise) who cut their own path who returned with wonders which some followed, "but the greatest of guides had died". Read into that whatever recently deceased rock star you like.
All these serious matters are (mostly) wrapped in music which surges and soars, and in that interview mentioned Phillipps was pleased when told that the Chills have an archetypal sound . . . and it is everywhere here.
Some of this is tough stuff (the melodic but blazingly abrasive Complex is a twist of the knob from an Eighties-pop stadium shaker) but amidst these are pieces which take a more measured and introspective view (Deep Belief). And there is an optimism and sense of coping, right from the opener Bad Sugar where he notes that even bad sugar make bitter taste sweet.
And the album's closer In Harmony – although surging power-pop – is like a candle of hope in the window of a dark cottage deep in the woods.
"We're still, still, still believing in harmony."
It is an uplifting end to a tidy 10 songs in 35 minutes and yet another solid plank in the rebuilt Chills' career this past decade.
Snow Bound is released on Friday and is available on limited edition vinyl, CD and digital.