Graham Reid | | 1 min read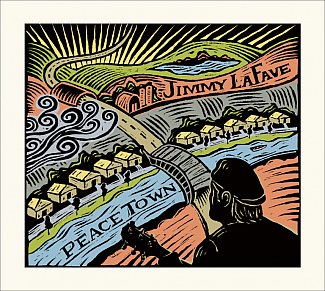 When Texas singer-songwriter Jimmy LaFave died about 18 months ago many mourned the passing of not just a great writer but a wonderful interpreter of others' songs (notably Bob Dylan but also Donovan and Woody Guthrie.
In the wider world he is best – and perhaps only – known for aching version of Walk Away Rene but Elsewhere has reviewed many of his albums and caught in concert in his adopted hometown of Austin.
LaFave's voice could be filed with a rare pathos, he brought a kind of hurt coupled with resignation . . . but also kissed with an optimism that implied you just have to go through this stuff to get to better days.
This wide-ranging double CD collection – his final recordings – includes material written by Pete Townshend (Let My Love Open the Door), Woody Guthrie (the title track, Salvation Train and Sideline Woman based on lyrics given him by Woody's widow Norah), Dylan (a slow and considered My Back Pages with keyboards and violin, What Good Am I, You're Gonna Make Lonesome When You Go), Robbie Robertson (It Makes No Difference), Chuck Berry (Promised Land) and others.
He gets away some boogie rock on Bill Cunningham's I May Be Used But I Ain't Used Up and the 20-song collection closes with the gorgeous Goodbye Amsterdam by Tim Easton.
But the few originals here stand as their equals: Minstrel Boy Howling at the Moon is an almost archetypal Dylanesque LaFave song which yearns and aches with hope and hard lessons learned over the mournful fiddle; Ramblin' Sky is a downbeat blues groove with organ and the Untitled piece is an accelerating hood-down instrumental deftly placed before Goodbye Amsterdam.
In a gatefold sleeve with photos by Jimmy himself, this is yet another remarkable collection by a singular artist, more so given that many of these were recorded live in the studio when he'd been diagnosed with cancer.
He died two days after a star-studded tribute show in Austin in May 2017. He was 61.