Graham Reid | | 2 min read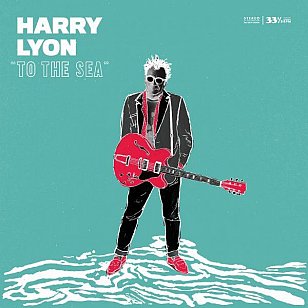 It should come as no surprise that Harry Lyon writes a great album, after all he has some prior form in Hello Sailor and Coup D'Etat. He also wrote Muscles which was on Mitch Marsden's Burning Rain album and was nominated for a Silver Scroll back in '91.
Muscles appears here again, but it now sounds very different and bears the aural fingerprint of the album's producer Delaney Davidson who levels it with menacing groove and Lyon's vocal has a nasty edge.
It's a standout among many at the centre of this collection which is very much like a traditional album of the old style where diverse songs are pulled into a coherent whole.
So the rough-hewn blues of Muscles (with Marsden on harmonica) and later the reflective, spacious and spare Harbour Lights ("first we stand, then we fall") sits alongside classically chunky pop-rock (Baby Don't Stop, Dance Me to Hell and Back), the country inflections of Johnny Cash (a song which salutes to the working man), the woozy and celebratory Sally Army-sounding I'm Surrounded (with Kingsley Melhuish on tuba and trombone) and the lovely Pacific mood on the ballad Luxury Cargo (Delaney on lap steel) which acts as a gentle reminder that Lyon wrote the Sailor classic Lyin' in the Sand.
And at the centre of this diverse collection, the song which closes the first side of the vinyl edition, is Christmas in Dublin, a beautiful letter to family on the other side of the world which will resonate with anyone who has loved ones at a far remove: "My day is hot, your day is cold, I got the beach but I ain't got you to hold, this is a day when if you can't come I'll come and see you for Christmas in . . ."
And you can put your own city in the lyric.
Lyon writes and sings this with the kind of ease Graham Parker once did in heartfelt ballads, or Dave Dobbyn, Hammond Gamble and other such peers.
These songs – some of which he has had knocking around for years – have an autobiographical quality which also binds them: the title track mentions his wife, touring in Australia and "the laughter of children, I worship their names"; One for the Road name-checks the Rising Sun on K. Rd. and the casual camaraderie of the legendary/notorious strip; there are references to water, beaches, rivers and the ocean; working people and musicians . . .
With tight musicianship (other players include Neil Watson on pedal steel, drummer Wayne Bell, Stuart Pearce of Street Talk on piano and others he has known for years), Davidson's tough production and 12 distinctive and discrete songs, "To the Sea" is a very impressive outing.
It's also 68-year old Lyon's somewhat overdue debut album.
.