Graham Reid | | 4 min read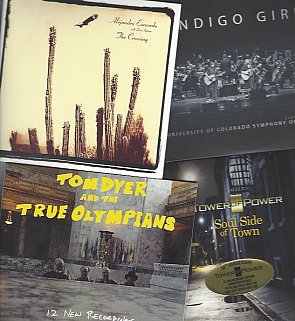 With so many CDs commanding and demanding attention Elsewhere will run this occasional column which scoops up releases by international artists, in much the same way as our SHORT CUTS column picks up New Zealand artists and Yasmin does with EPs.
Comments will be brief.
.
Alejandro Escovedo with Don Antonio: The Crossing (Yep Roc/Southbound)
The great Hispanic songwriter and singer Alejandro Escovedo from Texas here constructs a song-story about a couple of young men who meet in Texas – Diego from Mexico and Salvo from Italy – and harbour different but paired histories, but want to achieve the dream of making rock'n'roll music by seeking out their heroes; Ramones, New York Dolls, the Stooges and MC5: "I got my teenage luggage and I headed out, looking for America in a record shop, outside Lubbock we got picked up by a cowboy name Joey . . ."
And he essays all this fist-tight or emotional songs with an Italian band and guests James Williamson of the Stooges and Wayne Kramer of MC5, Peter Perrett and John Perry of The Only Ones and Joe Ely on his own ballad Silver City..
Of course this country-rock narrative takes place in the world of today, in an America riven with division and amnesia: "It seems that times have changed, they've broken all the pretty things, the record players and the phonographs . . ."
Embedded within this narrative is the migrations of the past and now, of pilgrims and the poor into America and "the crossing" of the title. It is the crossing of rivers and boundaries ("the border crossed me, I didn't cross it" says Diego), but also cultures and histories. And the outsider mentality (Kerouac, Ginsberg, James, Cesar Chavez and others get mentioned in the cow-punk rock of Outlaw for You).
There are reflective passages (Waiting For Me, How Many Times and Cherry Blossom Rain at the midpoint when the journey seems to be come wearying) but mostly this is infused with a sense of desperation and sometimes barely suppressed rage: In the thumping Sonica USA (featuring Kramer) one of the boys says: "This is America and I wanna be anarchy in Hollywood, land of the free".
There's also Rio Navidad, a spoken word piece set to melancholy but menacing music about a touch racist Texas Ranger at a wedding by author/songwriter Willie Vlautin and read by Freddy Trujillo from Vlautin's band Richmond Fontaine.
As with Richmond Fontaine's albums which often have a narrative thread, The Crossing is an album/story to live with and think about.
Especially in these times when, as Diego muses, you might wish "turn back the clock, return to all the dreams we lost . . ."
That wall might never be built, but clearly the walls have been unearthed and brought into the dark glare of America in just two years.
Another excellent and important album from this special source.
Fire and Fury, Escovedo and Antonio
.
Indigo Girls: Live with the University of Colorado Symphony Orchestra (Rounder/Southbound)
Unlike most such parings of popular artist and an orchestra, this was no one-off or short-lived affair. The Indigo Girls performed with around 50 orchestras so here with the CSO and arrangements which they had bedded in, the sheer cinematic sweep behind them has been tried and proven.
In the swelling and widescreen opener Woodsong they sing of "just holding on for the ride" and, taking those words out f context, that is fine advice for this as the 64-piece orchestra unleash their fire-power as Emily Saliers and Amy Ray confidently ride the surges or tone things down to orchestrated intimacy.
Wonderful horns on this double album which is one of those rare pairings where you don't immediately say, "But why?"
The answer is obvious: it works, even if it is a whole lotta Indigo'n'Orchestra.
Best enjoyed and appreciated in smaller slivers.
Chickenman, the Indigo Girls
.
Tom Dyer and the True Olympians: 12 New Recordings (Green Monkey)
This debut from four Seattle musicians whom we might call "senior" --they've known each other since high school – certainly don't aim for mainstream acceptance: The opening track is Hegemony (a deliberately knuckle-hard rock-down); gentle sensibilities will be offended by the faux-gospel hoe-down Wibblin' For Jesus; there are understandable rants about the state of their nation (The Ballad of Donald John Trump, "a lyin' scum") and so on.
They get a little psychedelic boogie on you with In the Light and I Am Your Mother,;I Will Fear No Evil is enjoyably reductive pop-metal; Over is a slow grind of apocalyptic rock and . . .
So it goes.
The accompanying press release notes that the majority of their song fall into the "cruddy rock" category and that they don't care what anybody thinks about their music, "they just do what they gonna do".
This is some of what they do.
Over, Tom Dyer
.
Tower of Power: Soul Side of Town (Mac Avenue/Southbound)
Half a century on and this 10-piece jazz-cum-soul-cum funk outfit – fired on by their always tight and punchy horn section – show they still tower and have lost none of their power.
Bandleader/singer, saxophonist and co-producer Emilio Castillo and fellow-founder Doc Kupka know the firepower this outfit has at its command so here pen material which hits some James Brown-style soul-shout (Hangin' With My Baby), disco-shaking dance Do You Like That? and Do It With Soul, the former with strings and women backing singers), soul-blues (the title track with guitarist Jerry Cortez peeling off the licks) . . .
And those run back-to-back in the first third of these 14 tracks (book-ended by short nods to their hometown of Oakland.
They turn things down for a low-lights and cliched ballad around the midpoint (Love Must Be Patient) then git-down-wid-it again on Butter Fried (lead by co-producer Joe Vannelli's organ part) and Selah, lower the lights again for Let It Go, bring back da funk for Stop, another breather with When Love Takes Control . . .
Excellent when it jabs and punches on the upbeat numbers, less engaging on the ballads. But the running order of party-party-dance then a break for a drink suggests this could be very useful at a summer barbecue.
Hangin' With My Baby, Tower of Power