Graham Reid | | 1 min read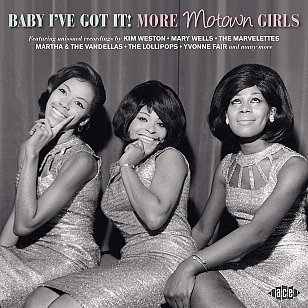 The Motown sound is as distinctive as a fingerprint, but that's what happens when you have the same musicians, the Funk Brothers, on just about every session and a quality control panel before the songs are released. And songwriters like Holland-Dozier-Holland, Marvin Gaye, Ashford-Simpson, label boss Berry Gordy and others (not represented on this particular 24-song collection) contributing outstanding and catchy songs.
And here there are certainly familiar names from the label's heyday in the Sixties: Gladys Knight and the Pips, Brenda Holloway, Ann Bogan, Martha Reeves and the Vandellas, Mary Wells, the Marvelettes and Patrice Holloway among them.
But only the most dedicated fans of the Motor City sound will know these deep cuts and rarities, some of which haven't appeared on CD (or at all) until now.
However – even on material recorded in California or Chicago – the backbeat and horns, girl group sound and the verse-chorus template renders these almost instantly familiar.
Some of these feature vocalists on band tracks which had been used by other artists.
But sometimes these Motown girls bring something powerful to the equation, as on Brenda Holloway's fast-tempo and urgent take on Baby I've Got It recorded in California, or Ann Bogan's striking soul-pop version of There are Things which leaps out of the speakers.
And LaBrenda Ben can peel the wallpaper off the far end of a long room (as on Bad News and Curtis Mayfield's It's All Right here).
Keep Away by Little Lisa gets that Funk Brothers midpoint between a soulful Satisfaction, classic Motown and the baion sound of Phil Spector. If Little Lisa isn't quite up to the task vocally – in terms of power and projection – we forgive her: she was the daughter of Kay Lewis of the (white) Lewis sisters and at the time just 11.
And as was the habit at the time, a hit for someone else could just be covered while the first version was still on the charts: but the Marvelettes' treatment on Sweet Talking' Guy isn't really a patch on the Chiffons.
So this is a mixed bag of discoveries (other names here are Rita Wright, Oma Page, Thelma Brown and Barbara McNair, the later with a big swinging number which seems to have escaped from The Love Boat) and enjoyably familiar sounds.