Graham Reid | | <1 min read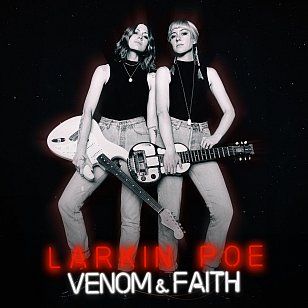 Although this band fronted by Atlanta-born and Nashville-based sisters Rebecca and Megan Lovell are most frequently referred to as blues there is as much raw soul and edgy alt.rock on this fourth album which is frequently freighted with dark meanings (the menacing "ride at your own risk" on the chunky Bleach Blonde Bottle Blues, references to inviting the President to get in the motorcade on the throb of Honey Honey with "pedal to the metal because the Devil cut the brakes").
Yes, there is blues everywhere but these 10 songs explore many aspects of American and America ("pain and misery" on Mississippi, with Megan on lap steel and Rebecca on wire tight lead) and are as home pulling in banjo and country styles (the jaunty Blue Ridge Mountains) as they are digging into a brooding country-soul ballad (Ain't Gonna Cry with "why am I swimmin' in the dirty water of a bad decision?") or covering Skip James' Hard Time Killing Floor (not the strongest version).
The opener is a compelling take on Bessie Jones' Sometimes from 1960 (sampled by Moby for Honey) which comes with the full gospel-soul handclap.
Rebecca's is the stronger and deeper vocalist but the breadth of their lyrical and emotional reach will be on display when Larkin Poe play Auckland's Tuning Fork April 26 and Christchurch's Blue Smoke April 27.
They'll be something to see.