Graham Reid | | 1 min read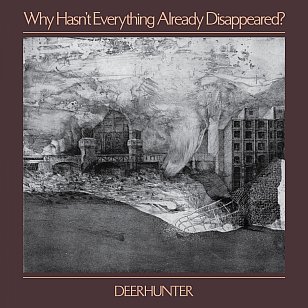 America's Deerhunter – and the offshoot of projects as Atlas Sound by the band's helmsman Bradford Cox – has long been an Elsewhere favourite, in fact two of the four previous albums we reviewed – this being their eighth – were in our end of year Best of lists.
Those albums might have had a few shadows but mostly they were smart and frequently upbeat alt.rock which nudged a little towards psychedelia.
However Cox wakes up these days as an older man – he'll be 37 in May – and to a more bleak and chaotic America. And that – along with some Eighties synths to create emotional distance (the instrumental Greenpoint Gothic) and somewhat naff vocal processing (the unnecessary and never-again Detournement which sounds liked it dropped of an especially naff and self-important prog-rock album) – makes for a much darker journey where images are of fading, passing, ending and melancholy.
When these ideas are married to a soundscape or a melody – as on the naggingly good Elemental for the former, the jerky pop of Plains and the sprightly What Happens to People? for the latter – it works but too often here you can feel that Cox's dyspeptic disposition is morphing dangerously close to a pessimism ("winter is coming, be aware") with misanthropy living next door. The closer Nocture with tape manipulation and a monochromatic setting is a real chore, and it is six and a half minutes long.
His pop smarts have not deserted Cox of course but to often here production elevates small idea (Futurism).
Perhaps the most interesting piece here is Tarnung, a kind of minimalist Eno/Bowie-like experimental piece which sounds beamed in from a very different album.
Given this is only 36 minutes long and there are three or four pieces you would happily live without, this seems a much considered, nicely arranged collection of lesser moments from a band/artist who can't quite figure out what it wants to be.
Those of us who have considered Deerhunter a pretty important band might find this very disappointing and really not worth the time spent decoding it.