Graham Reid | | 1 min read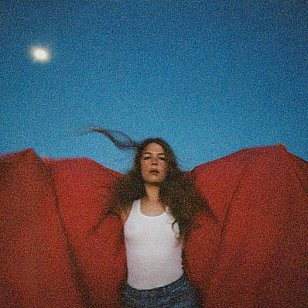 A friend recently bemoaned that young pop stars can make it on the basis of just one single that goes viral.
They haven't paid their dues . . . and so on.
He then cited by way of example Maggie Rogers whose recent single Light On he'd heard.
Big mistake, given this bright poppy (if flawed) major label debut album which includes that catchy single and collates a number of reworkings of previously released songs (Alaska impressed Pharrell and got extensive Australian radio play).
And she has risen above her background to be highly successful.
That background was – as with Lana Del Ray – one of American privilege and exclusive education (New York University).
But there's surely no edict that says popular music can only be made by working class strugglers, is there?
We judge the artist by the work and – although this album was most certainly not made with my demographic in mind – it offers some very classy and memorable contemporary pop songs.
And she's no kid, she's 24 so has seen around and been around pop culture (hence the album title) and also released independent material prior to this, Blood Ballet of a couple of years back dealing with some deep issues. It's worth locating.
In fact the first catchy single here Light On – which my friend rejected as the lightweight work of a novice – went to number one on the US Adult Alternative Chart.
She may not have paid her dues in the way of jobbing bands in the past but she has put the miles in, and this album is proof of that.
She takes advantage of contemporary technology and production but rarely plasters it on as so many contemporary r'n'b artists do but rather keeps the song in mind.
The opener Give a Little – a single which surprisingly failed to chart – is a pop/r'n'b meltdown with an urgency and catchy chorus; Overnight shows she has a little soul in her voice; Past Life is a strong ballad . . . and my guess is you'll recognise Light On, Fallingwater and most others instantly on a second play.
In other places the energy flags into some familiar lyrical and melodic cliches, but at its best it holds its own.
Yes, she's had a little co-write assistance but her hand is in every one of these 12 songs in 45 minutes and producer Greg Kurtsin (Pink, Adele, Foo Fighters, Liam Gallagher, McCartney and Grammy nominations and wins) wouldn't have worked with her if he didn't want to.
At her best as she is for half of this, she's worth hearing.