Graham Reid | | 1 min read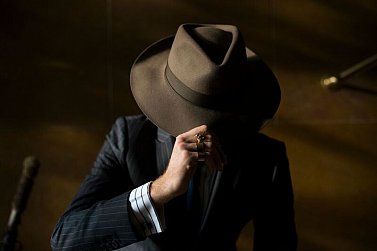 Although the Johno here comes with a fairly substantial press release when it boils down it's short on gritty specifics. We glean he is London-born of Irish parents and we'll accept he was a jazz musician who ended up doing a lot of production, and that now he lives on a coast in Greece but spends a lot of time traveling through Europe, Africa, the Balkans and Middle East.
With all of that somehow in the mix you might correctly guess that this is a kind of pan-world music outing which is well produced and draws on that jazz background (although we aren't told the names of the "jazz heavyweights" who are among the players).
And so there's stuff of considerable interest here because of his peripatetic musical inclinations.
He here sets Robert Frost's famous poem The Woods Are Lovely Dark and Deep into smooth-jazz setting behind his hoarse speak-sing vocals, places Frost's The Road Not Taken against a more sweepingly orchestral and vaguely Arabic backdrop, puts McCartney's Long and Winding Road in an exotic setting with Turkish musicians and relocates John Denver's Country Road with the assistance of Tunisian musicians who bring orchestral drama and those great sweeps of strings.
There are also resettings of pieces by Byron, Kipling (If, with Greek rhythms and melodies) and more.
These are courageous and interesting reinterpretations – unfortunately Paul Simon's Homework Bound is given slightly limp Irish props – but what pulls it back considerably is Johno's voice which lacks gravitas and a certain mystery when required (the Frost pieces) or emotional power and resonance.
His husky and limited range often distracts from how accomplished the settings are.
On his own label (which is fascinating, see here), this is a well-realised vanity project to some extent and half of the album's profits apparently will go back into his various philanthropic projects.
So Johno's head and heart are in the right place . . . it's just his voice (a little Billy Fields-meets-Mose Allison, if you will!) doesn't carry this over the 12 songs.