Graham Reid | | 1 min read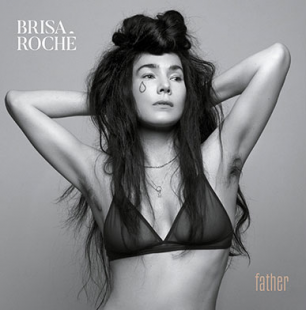 We forgive ourselves – and of course you – because this one went past unnoticed. Elsewhere only discovered it when a fan/supporter here sent a on copy of this quietly gripping album from last year.
American-born musician-poet Roche – now 42 – spent most of her life in Paris where she performed across a variety of genres, recorded an album and was signed to Blue Note for her second, The Chase.
That was in 2005 when the label was embracing artists outside the pure jazz it had made its name with and although on the evidence of this album, her sixth, Roche isn't a jazz singer she has appeared at such festivals.
Her lineage on Father is more akin to the acoustic Neil Young, Patti Smith and PJ Harvey axis. Harvey/Aldous Harding producer John Parish appears here on guitar and drums and as co-producer, and guitarist Nick Zinner from Yeah Yeah Yeahs appears on two songs.
As the album title suggests, in places here she addresses the loss of her adventurer father when she was 16 (a recording of him reading one of his road-poems is right at the end, the words reproduced in the sleeve along with a photo), the opener is 48 in which she sings "three times my 16 was your 48, I tried my best but I was too late". It is very moving and musically conjures up early Neil Young in her vocal quiver and sustained notes.
Later she specifically references him in the lean folk of Holy Badness where she adopts the voice of an innocent child: "A bad man turned my father onto cocaine in law school, that is how I knew he was bad."
Elsewhere the spirit of her father, her prismatic reflections of him and sense of on-going loss is evident . . . but this never sounds like a sustained wallow in grief just often astute self-analysis and observation, as on the folk-pop of Engine Off: "We danced to Talking Heads, three heavy birds trying to fly, sometimes when they free-based I'd write down what they'd recite and on yellow legal paper schemes soared high as flags . . . and if there was a song, it is a song I wish I didn't understand . . .".
Musically this album is spare – mostly trio with guitar, bass, drums and sometimes, as on Patience, Parish on piano – and that ideally suits her vocal presence.
There's also something of Leonard Cohen's poetic in her lyrics a she is capable of understated beauty (the exceptional Cypress, and its equal in the more dramatic Black Mane with Parish on organ).
By the end of the 12 emotionally engaging and subtly delivered songs it is very much Brisa Roche's voice and persona which comes through.
Not a name you might have encountered – I certainly hadn't – but an artist you deserve to immerse yourself in.
You can find this album and others by her on Spotify.