Graham Reid | | 1 min read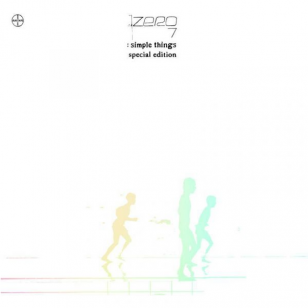 This debut album by the British electronica/production outfit of Sam Hardaker and Henry Binns saw the duo nominated as best newcomer at 2002's Brit Awards (Blue won) and the album nominated for a Mercury Prize in 2001 (it lost to Polly Harvey's Stories from the City/Sea).
With its orchestrated cinematic sweeps – real James Bond music stuff or downtempo mood pieces – it opened with a brooding cover of the Peddlers' I Have Seen (sort of soul-funk Goldfinger) and along the way had vocals by Sia (before she broke global more than a decade later), singer/producer Mozez (on the slippery I Have Seen) and a roster of first-call studio players on horns, strings, percussion and guitars.
At the time Zero 7 had remixed for Radiohead's OK Computer, Lambchop and soul-jazz singer Terry Callier which gives you some idea of the width of their reach.
Certainly some of the album brought to mind Massive Attack and Air (Moon Safari had appeared a couple of years previous), but their gently lukewarm balm of beats, acoustic guitars and sometimes shimmering electronica was delivered with a nightclub jazz and chill-out soul sensibility (as on the gorgeously languid hit Destiny with Sia and Sophie Barker, the latter appearing on the equally sleepy The Waiting Line).
If there was a slow-beat movement like the slow-food thing, then Simple Things would be the sonic touchstone.
In places this rises from ignorable ambience into being present (This World with Mozez), and the six minute Likufanele is 3am Seventies space-jazz on a shuttle which has taken off from South Africa with some vocal stowaways.
Late last year the album got a reissue (although some take umbrage at that definition because different masters were used) with an extra disc of some previously unreleased remixes (Photek, Dorfmeister and others) along with three truncated live takes of their singles. And other tracks which only appeared on out-of-print US or Japanese expanded editions (like the deliciously understated mood of Monday Night and more somnambulant soul from Sophie Barker on Spinning).
As at home with acoustic guitars and Fender Rhodes, lo-funk (the wah-wah of Salt Water Sound) and allowing for a remix of the End Theme (by Herberts Chop Dub), Zero 7 re-make a fine debut with this double disc which guarantees stress-free pleasures -- although the eight and half minute Block 16 mix of Distractions outstays its welcome by many minutes -- even if their aural fingerprint isn't always distinctive.