Graham Reid | | 2 min read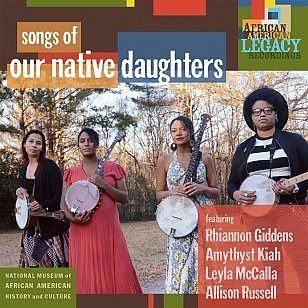 Elsewhere has written about Native American artists and music (traditional, contemporary, in pop and jazz) and of course a considerable number of black American artists.
Rhiannon Giddens (vocals/banjo) who appears here was recently seen in the doco Rumble: The Indians Who Rocked the World (which also screened on Maori Television) and was one of many drew the link Native American and black musical culture – from Charley Patton and the black Indians of Mardi Gras through Buffy Sainte-Marie and Jesse Ed Davis and more.
Here Giddens (who co-produces with guitarist/accordion player Dirk Powell) is joined by singers/banjo players Amythyst Kiah, Leyla McCalla and Allison Russell (of the band Po'Girl) to write music in celebration of black American culture, banjo music (which can be traced back to instruments like the ngoni in West Africa) and artists.
When placed in context of an older America where there was blurring of lines between French, British settlers, black slaves and free, creoles and Native Americans – let alone blackface and the roots of Mardi Gras Indians – these songs equally cross genre barriers.
But their roots are in oppression, the longing for freedom, the discrimination between colours (light black preferable to dark black) and yet leap straight into the 21stcentury, as on Barbados.
It starts with a poem which has an uncomfortable ambivalence about slavery by William Cowper in 1788 ("I pity them greatly but I must be numb for how could we do without sugar and rum?") and ends with words by Powell which echo them about kids working slave wages to create high end fashion or in electronics factories: "I pity them greatly but I must be mum . . . the garments we wear, the electronics we own, what if we gave up our tablets, our laptops and phone?"
In Quasheba Quasheba, Russell writes about her own heritage which she only started to learn at 30 and could then trace back to a slave woman of the title who was sold off the coast of Ghana and sold to plantation in Grenada.
These songs – recorded at Breaux Bridge in Louisiana on the edge of the bayou – reflect on a different view of American history beyond the textbooks and as told in the voices and songs of those marginalised by culture and/or gender.
It is instructive but far from bleak and finger-pointing: Polly Ann's Hammer celebrates the wife of John Henry the steel drivin' man (as she was) and Bob Marley's Slave Driver is revisited as an effective banjo ballad to remind of his militancy (which "has been whitewashed in the years since his death", writes Powell).
Better Git Your Learnin' comes from a lively tune by 19thcentury banjo player Thomas F Briggs but has a lyrics by Giddens which might be historic but ends with the pointed, "So now that I am old and gray, listen close to what I say, the white folks will write the show, if you can't read you;'ll never know. Better git yer learnin'."
And if we might borrow – just this once – from the current argot, there are "learnings" to be had on this terrific, deep and well-annotated collection which ends with the uplifting Music and Joy, then the always timely sentiment You're Not Alone, a powerful ballad by Russell who in the liner notes tells of her harrowingly abusive childhood and how she found strength and resilience in the stories and presence of her maternal ancestors.
A remarkable and powerful addition to the lineage of albums on the Smithsonian Folkways label in their African American Legacy Recordings series.
Essential.