Graham Reid | | 1 min read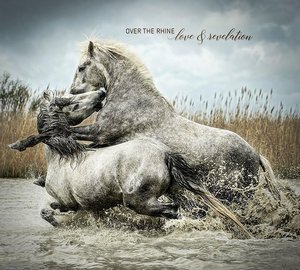 It's a changed marketplace these days for musicians, and you know it when this husband-wife duo of Karin Bergquist and Linford Detweiler – who are Over the Rhine and have been together making music for three decades and catalogue of almost 20 studio albums – have crowdfunded this typically tasteful country-folk outing.
With their large fan-base (their Nowhere Else Festival on their rural and remote home in Ohio pulls close to 1000 every year) and critically acclaimed albums you'd think major record companies would be lining up to get behind them.
That they don't want that of course and value their independence is risky but to their credit, and that fan-base has certainly been supportive given the scores of names acknowledged in one of the two booklets with this handsome package.
There has always been some very personal and homespun (but highly professional) about what they do and they've certainly never wanted for classy help.
Previously Joe Henry has produced their albums – he wasn't available this time so they've done it themselves – and among the players are pedal steel player Greg Leisz and drummer Jay Bellerose whose names will be known by lovers of Americana.
There is a loose song-cycle here about lost love, forgiveness, healing and a kind of resignation-reconciliation which plays out across memorable, poetic and emotional songs and the musical resonances brought by the small band which keen from vast spaces to intimacy.
The title track is an astute observation about those who would weaponise Jesus for their cause, but mostly these are songs of reflection and 10 songs end with a final instrumental An American in Belfast for absent producer Henry who was in Ireland on a writing retreat.
Over the Rhine have always set a high bar for themselves and this one clears it with ease.
For previous reviews of Over the Rhine albums and some interviews start here.