Graham Reid | | 1 min read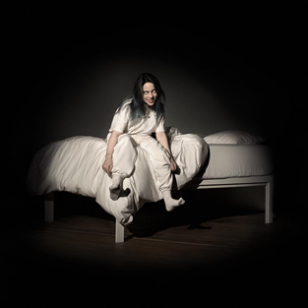 Talking about current pop music with some university music students last week (all a third my age) I mentioned sevenTeen-sensation Billie Eilish.
And we agreed "she were crap, mate" when she played the Auckland Laneway Festival in 2018.
I said that frankly she couldn't sing and couldn't dance (she danced as badly as me, 'nuff said) but one student defended her saying she was put off by poor sound.
Agreed, but even so . . .
Then I asked about this new Asleep album by her which, to my surprise, is actually her debut.
(I'd thought maybe her third given her high profile, but albums aren't the currency for such pop artists, right?)
And because I already said I'd pay attention to anything Beyonce and Taylor Swift did because it would always be interesting, I asked if this one was worth hearing.
Ummm.
I was told it was number one last week in just about every market on the planet.
And probably in distant galaxies so . . .
Time to pay attention to someone who looked like a modestly talented amateur act on stage and has released about a dozen mundane and very low-charting singles . . . but here has really stepped up in the studio.
And who do we credit for this?
Well, producer Finneas for a start who gets co-write credit everywhere and who understands how to close-mike her small voice to make it intimate, knows where to put a hook (by double-tracking her for effect) and I suspect is the one who makes lyrical and melodic reference to the Sixties pop classic Alfie for Billie's Xanny here.
Yes, there are reflexive lyrics here about needy relationships (she's 17 remember), the contemporary pre-occupation with gender identification which seems like the right-thing-to-say-right-now (Wish You Were Gay) and mid-deep dub-meets-nightclub on the very smart and crafted Bury a Friend (with dramatic pauses for effect).
So over the running time this an extraordinary album in that it is An Album (in the old sense) and not some collection of singles/pop-moments.
And is so musically unassertive in the latter two-thirds that almost undersells itself.
Clever.
Asleep requires close listening and in this instantly-dismissive/Spotify age of programed-for-your-pleasure music that in itself is pretty remarkable.
By (mostly) eschewing the obvious, Billie Eilish has here become an album artist who moves easily from sexual seduction (You Should See Me in A Crown) to sand-papered gigamo hip-pop (the sable-smooth All the Good Girls Go To Hell) and ballads.
Maybe she still can't dance, but that hardly matters.
Because this is an unexpectedly close-listening downtempo collection . . . and by being #1 all over this planet she – as with Beyonce and regrettably few others – has invited her audience to make/take the time to listen to the full arc of an album.
Kinda rare in these times when Spotify a-logs choose your taste for you and links to songs you might like.
In Eilish/Finneas' safe hands, maybe The Album is making a comeback in these short concentration-span time?
Ha!
We wish.